Miniature Transmitters control small, fluid-powered machines.
Press Release Summary: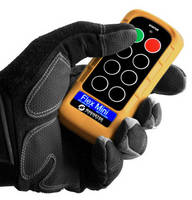 Configurable wireless transmitter, Flex Mini, features up to 8 pushbuttons for on/off control as well as pairing feature that increases uptime. Hand-held form factor helps prevent fatigue during use and allows one-handed operation. With hand-held form factor, Mini-MBT ergonomic bellybox control features toggle switches, potentiometers, graphic display, 2-way feedback, and fully proportional control option. Also available, Mini-PGT pistol-grip transmitter has ergonomic handle and LCD screen.
---
Original Press Release:

Magnetek Introduces a New Line of Enrange(TM) Mini Wireless Controls



MENOMONEE FALLS, Wis. − Magnetek, Inc. (NASDAQ: MAG), a leading provider of digital power and motion control systems, today announced the availability of their new line of lightweight, "miniature" transmitters. While retaining many of the capabilities found in the Company's full size wireless controls, these compact, lightweight controls provide an effective yet economical solution for controlling small fluid-powered machines used in applications such as agriculture, construction, forestry, work trucks, and more.



Magnetek's new Flex Mini, a low-cost, easy-to-configure wireless transmitter, is an ideal solution for applications that require simple control operations, such as grain augers, seed tenders, winches, or hydraulic doors. The Flex Mini features up to eight pushbuttons for on/off control and has a new pairing feature that increases up time. Flex Mini fits comfortably in the palm of an operator's hand, preventing fatigue during use. The Flex Mini's compact design also enables one-handed operation, freeing operators to assist with other tasks.



The Company's ergonomically styled Mini-MBT transmitter is one of the smallest and lightest bellybox controls available on the market today. While the new Mini-MBT fits easily in an operator's hands, similar to today's handheld gaming controllers, it offers many of the same capabilities as larger bellybox transmitters including toggle switches, potentiometers, graphic display, two-way feedback, and a fully proportional control option. The flexible Mini-MBT offers the most configuration selections in a streamlined package for applications such as loader cranes, stick boom cranes, and tire hands.



Finally, the new Mini-PGT incorporates the latest electronic technology in a compact, pistol-grip transmitter. Although its size, weight, and style are similar to most handheld transmitters, the Mini-PGT features control found on Magnetek's larger bellybox transmitters. A strong, ergonomically designed handle provides a natural feeling hand grip and an LCD screen displays easy-to-read, detailed feedback. Mini-PGT is an economical solution for controlling multiple proportional hydraulic valves on applications such as telescoping cranes, service cranes, and stationary concrete pumps.



"Our new line of mini wireless controls, the Flex Mini, Mini-MBT, and Mini-PGT, expands our portfolio of wireless control products so customers can choose the exact functionality, size, and style that fits their applications," said Eugene Novak, Magnetek's radio controls development and product manager. "They provide many of the capabilities and configuration options found in our full-size transmitters in smaller, lighter packages, making them easy and comfortable to use."



For more information about the Flex Mini, Mini-MBT, and Mini-PGT transmitters or any of Magnetek's advanced wireless controls, visit the Company's website at www.magnetekmobilehydraulic.com.



About Magnetek

Magnetek, Inc. is a leading provider of Energy Engineered® digital power and motion control systems used in mobile hydraulic, overhead material handling, elevator, and mining applications. The Company provides highly durable wireless controls that can be customized to serve the needs of a variety of applications, including tow trucks, cement trucks, boom trucks, truck cranes, concrete mixers, drill rigs, mining equipment, and more. Magnetek is also North America's largest supplier of digital drive systems for industrial cranes, hoists, and monorails and provides radio remote controls, motors, braking and collision avoidance subsystems to North America's foremost overhead material handling crane builders. The Company is the world's largest independent builder of highly integrated digital motion control systems for high-rise, high-speed elevators and is a leading independent supplier of digital motion control systems for underground coal mining applications. Headquartered in Menomonee Falls, Wis., in the greater Milwaukee area, Magnetek operates manufacturing facilities in Pittsburgh, Pa., and Bridgeville, Pa., as well as Menomonee Falls.

Related