Miniature Spectrometer helps ensure product and food quality.
Press Release Summary: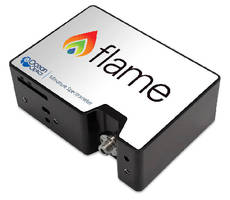 Fully configurable across 190–1100 nm wavelength, Flame Spectrometer is suited for use in absorbance, transmission, reflectance, irradiance, and color measurement applications. Unit has thermal stability of 0.05 nm/°C from 200-850 nm. Interchangeable slits enable user to adjust resolution and throughput on demand, while indicator LEDs show continuous power and data transfer status. With 89 x 63 x 34 mm footprint, Flame offers choice of USB or RS-232 communications.
---
Original Press Release:

Next Generation Miniature Spectrometer Color Measurements



Flame brings flexible sensing power to product and food quality



Dunedin, Florida, USA — Ocean Optics has launched a spectrometer line that combines decades of miniature spectrometer design expertise with industry-leading manufacturing techniques. The Flame spectrometer delivers high thermal stability and low unit to unit variation without compromising the flexibility and configurability that are the hallmark of modular, miniature spectrometers. Features such as interchangeable slits, indicator LEDs and simpler device connectors provide great flexibility for a wide range of UV-Vis reflected color measurements. The Flame's spectral sensing can be used in agricultural to gauge crop readiness, and in food, consumer goods, textiles and chemicals manufacture to ensure quality and consistency. The compact Flame can be used in quality labs or integrated on production lines.



The Flame is fully configurable across the 190-1100 nm wavelength range for use in absorbance, transmission, reflectance, irradiance and color applications. Spectrometers come preconfigured or custom configured, with interchangeable slits that enable users to adjust resolution and throughput on demand. To further increase measurement power, the Flame works seamlessly with Ocean Optics' range of light sources, optical fibers, sampling accessories and software.



Optical bench improvements and high precision alignment methods elevate Flame performance for demanding applications in field and industrial environments. The Flame has thermal stability of 0.05 nm/°C from 200-850 nm and highly consistent unit-to-unit performance that meets the needs of high-volume production environments. Its small footprint (89 x 63 x 34 mm) and low weight (265 g) make Flame ideal for process integration.



Flame operation is plug and play. A choice of USB or RS-232 communications, supported by drivers and software, make it easy to integrate into almost any system. Indicator LEDs show continuous power and data transfer status.



To learn more about the Flame, please contact an Ocean Optics Applications Scientist at info@oceanoptics.com, visit the website at www.OceanOptics.com or call Ocean Optics World Headquarters at +1 727-733-2447.



About Ocean Optics:

Headquartered in Dunedin, Fla., Ocean Optics is a leading supplier of spectral solutions for optical sensing – fundamental methods of measuring and interpreting the interaction of light with matter. With locations in the Americas, Europe and Asia, the company has sold more than 220,000 spectrometers worldwide since 1992. Ocean Optics' extensive line of complementary technologies includes chemical sensors, analytical instrumentation, optical fibers and optics. The company is a subsidiary of Halma plc, an international market leader in safety, health and sensor technology.



Follow Ocean Optics on Twitter      

Follow Ocean Optics on YouTube      

Follow Ocean Optics on Facebook      

A Halma Company

More from Packaging Products & Equipment