Miniature Slides suit short-stroke applications.
Press Release Summary: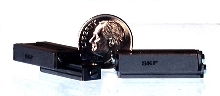 SKF(R) Miniature Slides (Type LZM) are complete assemblies for linear motion applications. They are offered in 4 sizes (7, 9, 12, and 15) with widths ranging from 17 to 32 mm and lengths from 26 to 165 mm. Hardened and made of stainless steel, they resist corrosion. Miniature slides can be mounted into place without use of precision devices to set preload.
---
Original Press Release:

SKF(R) Miniature Slides Offer Compact Solution For Short-Stroke Applications


New SKF(R) Miniature Slides from SKF Motion Technologies (Bethlehem, PA) are designed as complete and compact assemblies for linear motion applications where short strokes are required and space for system components is minimal. These miniature slides offer high carrying capacity, smooth motion, and precision guidance for a wide range of applications in the fiber optics, medical, pneumatics, semiconductor, microassembly, and electronics industries, among others.

SKF Miniature Slides (Type LZM) are available in four basic sizes (7, 9, 12, and 15) with widths ranging from 17mm to 32mm and lengths ranging from 26mm through 165mm, depending on specific type. They are made of stainless steel to resist corrosion and have been hardened to optimize endurance and performance.

These new slides promote high running accuracy and, depending on the application, running accuracies of 2 micron over a stroke of 100mm can be achieved.

SKF Miniature Slides are easy to install, since they are provided as complete, ready-to-mount units. Unlike cross-roller systems using four rails and cages to be assembled on a production floor, the miniature slides can be simply mounted into place without the use of precision devices to set preload.

In addition to the standard Miniature Slides product line, custom designs can be developed.

Contact James M. Brown, SKF Motion Technologies, 1530 Valley Center Parkway, Bethlehem, PA 18017-2266. Phone: (800) 541-3624 (toll-tree) or (610) 861-3712. Fax: (610) 861-3737. Web site: www.linearmotion.skf.com

(SKF(R) is a registered trademark of SKF USA Inc.)

More from Adhesives & Sealants