Miniature Rotary Batch Mixer blends up to 1 ft³ in 2-3 min.
Press Release Summary: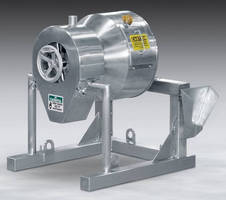 Regardless of disparities in batch ingredient densities, particle sizes, or flow characteristics, model MX-1-SS blends dry bulk materials, with or without liquid additions, in ratios down to 1 ppm with total uniformity. Operational efficiency remains steady down to 5% of rated capacity. Mixer is equipped with grounding lugs and powered by gear-reduced TEXP industrial electric motor with NEMA 7/9 junction box. Mixing flights within rotating drum gently tumble, turn, cut, and fold material.
---
Original Press Release:

Miniature Rotary Batch Mixer Blends up to One Cu Ft (28 L) in Two to Three Minutes



UTICA, NY – A new Miniature Rotary Batch Mixer model MX-1-SS from Munson Machinery blends up to one cu ft (28 L) of dry bulk ingredients, with or without liquid additions, in ratios down to one part per million with total uniformity in two to three minutes, regardless of disparities in the bulk densities, particle sizes or flow characteristics of batch ingredients.



It is equally efficient down to five percent (0.05 cu. ft. / 1.4 L) of rated capacity, making it suitable for accurately determining outcomes when scaled up to larger Rotary Batch Mixers.



The mixer is constructed primarily of stainless steel with brass components. Parts produced from other metals, such as the motor shaft, are shielded with stainless steel.  It is also equipped with grounding lugs, and is powered by a gear-reduced TEXP (Totally Enclosed Explosion Proof) industrial electric motor which has a NEMA 7/9 junction box.



Proprietary mixing flights within the rotating drum gently tumble, turn, cut and fold material, and evacuate blended batches through a stationary plug gate valve with no segregation or residual "heel" of material remaining. Unrestricted access to all interior surfaces allows rapid cleaning and inspection.



The company offers six Miniature Rotary Batch Mixer models in maximum batch capacities of 0.25 to 15 cu ft (7 to 425 L) or 2 to 1200 lbs (1 to 544 kg).



Also offered are large-scale, in-line Rotary Batch Mixers with capacities of 5 to 600 cu ft (142 L to 17 m3), Continuous Rotary Blenders, Ribbon/Paddle/Plow Blenders, Vee-Cone Blenders, High Intensity Blenders and Fluidized Bed Mixers.  Size reduction equipment produced by the company includes Screen Classifying Cutters, Centrifugal Impact Mills, Rotary Lump Breakers, Attrition Mills, Hammer Mills and Shredders.



For information contact:

Munson Machinery Company, Inc.

800-944-6644

+1-315-797-0090

info@munsonmachinery.com

www.munsonmachinery.com

More from Optics & Photonics