Miniature Positioning Stage offers micron level precision.
Press Release Summary: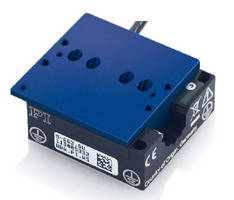 In size of matchbox, Model M-663 integrates high-speed ceramic linear motor, precision guiding system, and optical linear encoder. Unit provides travel range of 18 mm and acceleration of several G's along with wide velocity range from microns/sec to 10 in./sec. Since linear motor is self-locking, no power is required to hold position and no heat is generated at rest. Motor is also unaffected by magnetic fields and can be used, for example, in MRI equipment or high-energy physics experiments.
---
Original Press Release:

Miniature Positioning Stage Driven by Ceramic Motor More Affordable, by PI (Physik Instrumente)



Auburn, MA - Precision positioning specialist PI (Physik Instrumente) releases a more affordable version of the M-663 piezo motor positioning stage for new applications where speed, repeatability and compact dimensions are critical, but nanometer resolution is not required.



The M-663 miniature positioner is based on a unique design concept.  In the size of a matchbox it integrates a high-speed ceramic linear motor, a precision guiding system and an optical linear encoder.  Previously only available with a 100 nanometer type encoder, the new additional model targets applications with micron level precision.  This is sufficient for many applications in bio-technology, medical design and for the adjustment and assembly of small mechanical components.  Providing a travel range of 18 mm, and acceleration of several G's along with a very wide velocity range from microns/sec to 10 inches/sec, the M-663 is a truly versatile miniature positioning system.



Self-Locking Motor Provides Stability, Reduces Heat is Non-Magnetic and Vacuum Compatible

A significant benefit of the ceramic linear motor is its self-locking property, once a position has been reached.There is neither power required to hold a position nor heat generated resulting in excellent positional long term stability. Piezo ceramic motors are also not affected by magnetic fields and can be used, for example, in MRI equipment or high-energy physics experiments. Vacuum compatible versions are also available.



Specifications, Datasheet, more Information:

Drawings, specifications and datasheets can be found at:

http://www.physikinstrumente.com/en/products/prdetail.php?sortnr=1000350



About PI

The PI group provides the broadest and deepest portfolio of precision motion technologies, from micropositioning to sub-nanometer precision positioning equipment for markets as diverse as semiconductor manufacturing, bio-technology, photonics, aerospace and medical engineering. PI has 4 decades of experience with the design and manufacture of precision positioning systems based on piezoceramic and electromagnetic drives. The company has been ISO 9001 certified since 1994 and provides innovative, high-quality solutions for OEM and research. PI is present worldwide with 10 subsidiaries, R&D / engineering on 3 continents and total staff of 750+

More from Communication Systems & Equipment