Miniature Piston Pump suit low-volume liquid applications.
Press Release Summary: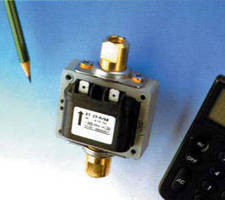 Targeting OEM applications requiring transfer or circulation of low-viscosity fluid media, Model ET-17 Miniature Solenoid Operated Piston Pumps feature precision coil and piston assemblies. These self-cooling pumps are self-priming to 10 ft, do not require suppression valves, and feature S9 plastic barb end connections as standard. Rated for continuous operation, pumps serve applications rated up to 26.5 gph at pressures up to 29 psi and are available with 24, 110, and 230 V coil options.
---
Original Press Release:
Miniature Piston Pump Ideal for Low Volume OEM Liquid Pumping Applications
Clark Solutions' Model ET-17 Miniature Solenoid Operated Piston Pumps provide a proven technology for liquid pumping applications up to 26.5 GPH at pressures up to 29 PSI. Pump applications range from misting and circulation systems, transferring inks and oil lubricants, disinfectant spraying and dispensing of condensate or water.

Hudson, MA – Designed for OEM applications requiring a small dependable pump to transfer or circulate low viscosity fluid media, Clark Solutions Model ET-17 Miniature Solenoid Operated Piston Pumps feature unique high precision coil and piston assemblies which result in a compact package size and a reduced number of moving parts for less wear and greater reliability. Model ET-17 Piston Pumps are self-cooling, self-priming to 10 feet, do not require suppression valves, and feature S9 plastic barb end connections standard. Optional end connections include stainless, brass or plastic. Voltage coil options of 24 V, 110 V and 230 V are also available. Model ET-17 Miniature Solenoid Operated Piston Pumps are rated for continuous operation, and are available with 303, 304, & 431 SS pump bodies, Buna-N, EPDM, Viton®, and Silicone seals, and Delrin or SS valve seats.

Model ET-17 Piston Pumps are available for online purchase. Complete technical information is available at http://www.clarksol.com/pump-piston-solenoid-operated/piston-pump-ET17.cfm. For more information, contact Clark Solutions, 10 Brent Drive, Hudson, MA 01749, Tel. 800-253-2497, Fax 978-568-0060, email sales@clarksol.com, or visit our web site at http://www.clarksol.com.

Clark Solutions has a fifty-year history of providing unique solutions to the measurement, control, and monitoring of pressure, flow, force, and level in liquids and gases. Located in Hudson, Massachusetts, the company offers a wide range of pumps for liquids, gases, and air, including diaphragm pumps, piston pumps, rotary vane pumps, gear pumps, peristaltic pumps, impeller pumps, centrifugal pumps, and bellows pumps. Clark Solutions also provides instrumentation devices to record, monitor, and control flow, velocity, pressure, temperature, humidity, level, gas concentration, and other properties. Valve offerings include inert isolation valves, solenoid operated valves, valve actuators, pinch valves, manifold valves, ball valves, globe valves, butterfly valves, needle valves, and miniature and subminiature valves.

Product URL: http://www.clarksol.com/pump-piston-solenoid-operated/piston-pump-ET17.cfm
Low Resolution Image: http://www.clarksol.com/images/GotecET-17-N.jpg
High Resolution Image: http://www.clarksol.com/hiresimages/ET17-piston-pump-hi-res.jpg


 
More from Non-Industrial Products