Miniature Piston Pump comes with driver board.
Press Release Summary: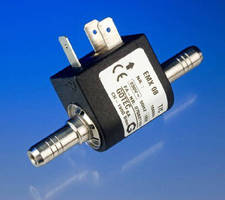 Suited for fluid transfer in low volume applications, EMX 08 Solenoid-Operated Piston Pump comes packaged with PD-106 Pump Driver Board. Oscillating piston pump is available with 2 or 3 valves, depending on inlet suction required. Piston size and length of displacement determine flow rate up to max of 2.4 gph, and pressure limits itself automatically to max of 11.6 psi. Accepting 9-35 Vdc input, driver board delivers pulsed 9-35 Vdc output with 10 msec nominal pulse length.
---
Original Press Release:
New Driver Board/Miniature Piston Pump Package Convenient, Effective Solution for Design Engineers
Hudson, MA-Clark Solutions, in response to customer requests, has "packaged" its EMX 08 Miniature Solenoid Operated Piston Pump with its PD-106 Pump Driver Board. The combined products form a simple, easy solution to low volume pump applications where a solenoid piston pump is best applied, but DC power is required. The pumps are intended for fluid transfer in a wide range of applications such as ink transfer, oil lubrication, flushing cycles in analytical instruments, cooling loops and many more. Both products are available online at www.clarksol.com. The Model EMX08 oscillating piston pump is a great solution for low volume liquid pumping applications where small size (74 mm long) is a critical factor. Model EMX-08 Piston Pumps are available with two or three valves depending on the inlet suction required. The pumps feature precision ground machined piston and bushing assemblies to guarantee minimum wear and exceptional component life. A selection of wetted material parts, including 303, 304, 316, & 431 SS, make these pumps suitable for a wide range of applications. The piston size and the length of its displacement determine the flow rate up to a maximum of 2.4GPH. The pressure limits itself automatically to a maximum of 11.6 psi. Model EMX08 oscillating piston pumps also feature the ability to run without damage when the liquid flow is stopped for short periods. The Model PD-106 Pump Driver is a board level product providing pulsed DC power, and is intended for mounting in a customer-provided enclosure for use with Clark EMX08 and other select Clark solenoid piston pumps. Model PD-106 Pump Driver Boards accept 9-35 VDC input and have a pulsed 9-35 VDC output. The pulse length is fixed at a nominal 10ms and the dead time between pulses is adjustable via a potentiometer for flow adjustment. The limited duty cycle results in quiet pump operation with very low heat rise of the solenoid. The circuit can drive pumps up to 35 volts. The PD 106 is intended only for use with select Clark solenoid pumps only. Clark Solutions has a fifty-year history of providing unique solutions to the measurement, control, and monitoring of pressure, flow, and level in liquids and gases. Located in Hudson, Massachusetts, the company offers pumps, valves and instrumentation to propel, record, monitor, and control flow, velocity, pressure, temperature, humidity, level, gas concentration, and other properties. For more information contact Clark Solutions, 10 Brent Drive, Hudson, MA 01749, Tel. 978-568-3400, Fax. 978-568-0060, or visit our web site at www.clarksol.com. PD-106: URL: www.clarksol.com/html/pd-106PumpDriver.cfm
EMX-08: URL: www.clarksol.com/html/prodspecsEMX08Pump.cfm