Miniature Op-Amps condition very small sensor signals.
Press Release Summary: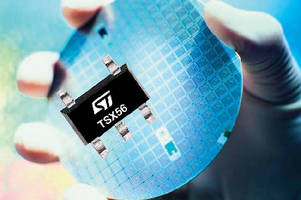 Based on 16 V CMOS manufacturing process, Models TSX561, TSX562, and TSX564 contain 1, 2, and 4 op-amps respectively, and operate over 3–16 V supply-voltage range, allowing use with variety of industry-standard supply voltages such as 3, 5, 12, or ±5 V. Series features max input-offset voltage of 600 µV, input bias current of 1 pA, typical quiescent current of 240 µA at 5V, and 900 KHz gain-bandwidth product. Operating from -40 to 125°C, op-amps provide ESD protection up to 4 kV.
---
Original Press Release:

STMicroelectronics Perfects Advanced Process Technology for New Generation of Sensor Electronics



First 16V op-amps using advanced new process reach the market, delivering new levels of accuracy, energy efficiency, space savings and rugged performance



Geneva – STMicroelectronics (NYSE: STM), a global semiconductor leader serving customers across the spectrum of electronic applications, has revealed a new generation of ICs using an advanced manufacturing  process that helps save energy, improve accuracy and simplify the design of sensors for applications from automotive electronics to smart buildings and industrial controls.



The new ICs are miniature amplifiers (op-amps) used to condition very small sensor signals. Benefiting from the advanced 16V CMOS manufacturing process, developed in-house, ST's new op-amps deliver better accuracy than existing devices, with greater long-term stability. Moreover, the process enables tiny die sizes permitting ultra-small surface-mount packages. Extremely low power consumption makes the op-amps ideal for battery or solar-powered equipment.



The new op-amps also have enhanced electro-static discharge protection, up to 4 kV, and can operate from -40°C to 125°C allowing use in harsh industrial or automotive environments. ST will release automotive-qualified versions of these devices in 2013.



The TSX561, TSX562 and TSX564, containing one (single), two (dual) and four (quad) op-amps respectively, operate over a wide supply-voltage range from 3V to 16V, allowing use with a variety of industry-standard supply voltages such as 3V, 5V, 12V or ±5V. The new devices join ST's broad op-amp portfolio, which give designers many choices of operating voltage, precision characteristics, Gain-Bandwidth Product (GBP) and power consumption. These include the TSV5 series offering similar performance for 5V operation, and the 10V TS94 series that draws just 1.2 µA for use in low-speed applications up to 10 kHz.



Major features of TSX56 series:

• Input-offset voltage (max): 600 µV

• Input bias current: 1 pA

• Quiescent current (typical): 240 µA (at 5V)

• Gain-Bandwidth Product (typical): 900 kHz

• Package options:

• SOT23-5 (TSX561 single)

• DFN8 2 x 2mm, MiniSO-8 (TSX562 dual)

• QFN16 3 x 3mm, TSSOP14 (TSX564 quad)



The TSX56 series are in mass production now, priced from $0.50 depending on the configuration/package, in quantities of 1,000 units. Alternative pricing options for higher quantities are available on request.



About STMicroelectronics

ST is a global leader in the semiconductor market serving customers across the spectrum of sense and power technologies and multimedia convergence applications. From energy management and savings to trust and data security, from healthcare and wellness to smart consumer devices, in the home, car and office, at work and at play, ST is found everywhere microelectronics make a positive and innovative contribution to people's life. By getting more from technology to get more from life, ST stands for life.augmented. In 2011, the Company's net revenues were $9.73 billion. Further information on ST can be found at www.st.com.



For Press Information Contact:

STMicroelectronics

Michael Markowitz

Director Technical Media Relations

+1 781 591 0354

michael.markowitz@st.com

More from Materials