Miniature Motors deliver precise linear motion.
Press Release Summary: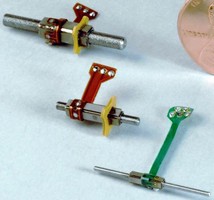 SQL Series piezoelectric SQUIGGLE motors convert ultrasonic vibrations into precise linear motion. Able to hold their position when power is turned off, these ceramic motors are compatible with high magnetic fields, including MRI chambers. Uses include nanotechnology research, microelectronics, optics, lasers, biotechnology, medical devices, aerospace and defense, and fluid control, as well as office/consumer products such as mobile phone cameras.
---
Original Press Release:

New Scale Updates Specifications for Tiny SQL Series SQUIGGLE Motor



Victor, NY - Sept. 20, 2006 - New Scale Technologies, Inc. has released updated specifications for its SQL Series piezoelectric SQUIGGLE motors. These miniature linear motors are used in mobile phone cameras, medical devices, optical instruments and other OEM product and research applications.

An updated technical data sheet is available for download at http://www.newscaletech.com/motorsforoem.html.

The data sheet includes:
- addition of operating specs for New Scale's smallest model, the 1.5 mm SQL-1.5 Series motor
- updated specs for the 2.4 mm and 3.4 mm SQL Series motors
- updated mechanical drawings

The SQUIGGLE motor is a patented piezoelectric device that converts ultrasonic vibrations into precise linear motion. SQUIGGLE motors are smaller, more precise, less expensive and more efficient than conventional electromagnetic motors. It has lower power consumption than miniature electromagnetic motors and holds its position when the power is turned off.

This ceramic motor is fundamentally compatible with high magnetic fields including MRI chambers. SQUIGGLE motors are used in nanotechnology research, microelectronics, optics, lasers, biotechnology, medical devices, aerospace and defense, fluid control, and office/consumer products including mobile phone cameras.

About New Scale Technologies

New Scale Technologies, Inc. (www.newscaletech.com) makes miniature ceramic motors that enable our customers to create smaller products and research tools. Our piezoelectric SQUIGGLE motors are smaller, more efficient and more precise than conventional motors. With only seven parts and no gears, this patented piezoelectric motor design uses ultrasonic vibrations to create precise linear motion. New Scale's miniature motors are compatible with extreme environments including vacuum, very low (sub-Kelvin) temperatures, and high magnetic fields.

SQUIGGLE is a registered trademark of New Scale Technologies, Inc.

READER CONTACT:
Fred Haas, Sales Manager
New Scale Technologies, Inc.
Phone (585) 924-4450
fhaas@newscaletech.com
www.newscaletech.com

More from Electrical Equipment & Systems