Miniature Module offers belt-driven, linear guidance.
Press Release Summary: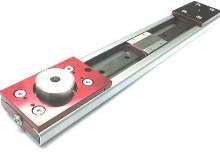 MINIMODULE linear guidance system features MINIRAIL miniature ball guideway and tooth belt drive. Both rail and carriage are corrosion-resistant, stainless steel. Based on MINIRAIL sizes 9, 15, and 42, MINIMODULE is available in corresponding sizes MLM 9, MLM 15, and MLM 42 with max length of 1,142 mm, max stroke of 886 mm, and max speeds of 5 m/s. Repeatability is better than ±0.03 mm and typical operating temperature is -40 to +80°C.
---
Original Press Release:

New Miniature Module Offers Super Compact, Belt Driven, Linear Guidance


New Product/Design Engineering/OEM Manufacturing

Bedford, MA, April 14, 2004--Schneeberger, Inc. announced the launch of a new line of belt driven, miniature guideway modules. The new MINIMODULE is a compact, linear guidance system with a miniature ball guideway-(MINIRAIL) and tooth belt drive. The integrated tooth belt drive design allows minimized overall dimensions of the module. With an extremely small cross section and minimum height of 16mm, MINIMODULE offers one of the most compact designs in the marketplace. Both the rail and carriage are manufactured from corrosion resistant stainless steel as is the main structure of the modules-Thus, MINIMODULES are ideal for high accuracy applications.

Additionally, MINIMODULE is available with a variety of options including Integrated Limit Switch, Cover Strip, and bottom mounted Motor Flange (Top mounting is standard). For higher load capacities, a second MINIRAIL Carriage can also be added to the module as well as a parallel installation of a standard minirail.

Based on MINIRAIL sizes 9, 15, and 42, MINIMODULE is available in corresponding sizes MLM 9, MLM 15, and MLM 42. A maximum length of 1142mm is available and a maximum stroke of 886mm is possible. Maximum speeds of 5 m/s can be acheived.

In application tests, a repeatability of better than +/-0.03mm has been observed. Typical operating temperatures are -40°C to +80°C. Short-term temperatures up to 120°C are possible. Installation and connecting dimensions are in accordance with DIN standard.

The Schneeberger MINIRAIL series is a family of robust, two-row miniature guideways made from stainless steel, ideal for compact environments. An advanced ball-retainer design simplifies installation and maintenance, reducing total cost of implementation and increasing application versatility. Typical applications can be found in the microelectronics, semiconductor, metrology, automation, Medical/Pharmaceutical, Life Sciences and other industries.

Unlike many conventional miniature guides, the MINIRAIL carriage can safely be removed from its guide without balls falling out and is also interchangeable. This makes handling and installation fast and easy. The large number of load-bearing balls provide the carriages with high permissible load values and torque. Each carriage includes wipers on each end to prevent contamination and help retain lubricant inside the carriage. Schneeberger offers its own re-lubrication set as well. Two lubrication ports are located at each end of the carriage for easy lubrication.

Schneeberger Inc., one of four subsidiaries of W. Schneeberger AG, headquartered in Switzerland, markets precision linear motion components and systems for demanding applications. Products include ball and cross-roller bearings, miniature slides and rails, profile guides, automated linear and rotary modules, multi-axis positioning systems, and precision ball screws. Based in Bedford, MA, Schneeberger, Inc sells directly through regional sales offices located throughout the US. For more information, contact Schneeberger at 1-800-854-6333 or visit www.schneeberger.com

More from Optics & Photonics