Miniature Linear Stage on Mars Rover Helps Provide Precision Focus Control for SuperCam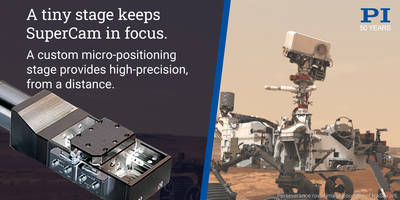 The tiny PI micropositioning stage on the Perseverance rover plays an important role in NASA's mission to detect traces of former life on the RED planet.
June 2021, Auburn, MA – Precision motion control and nano-positioning industry leader, PI, plays a key role in distance targeting of geological samples for testing by the Mars rover, Perseverance. Exacting control of the optical focus is required by the space-qualified variant of the PI miCos MT Series stepper-motor stage as it axially translates the secondary mirror of the telescope which collects the optical return from the sample while providing imaging information to place the sample within geologic context. This is the second time PI precision motion equipment has traveled the long distance to our neighboring planet. The rover, Curiosity, has relied on PI's patented PICMA® piezoelectric transducers and an another motorized focusing stage since first landing in 2012.
The shocks and vibrations of launch and landing necessitated that every component in the customized stage, from the stepper motor to the crossed roller bearings, be validated and optimized to eliminate the possibility of failure or degradation. The autofocus process places stringent demands on the stage's performance – resolution, backlash, trajectory quality, and stability are all crucial for responsive operation and reliable data. The wide temperature excursions to which the stage was to be exposed in flight and on the Martian surface added significantly to the challenge. Modeling and thermal compensation technologies and sophisticated vacuum-compatible components, coatings, and lubricants were utilized. This specialized variant of the commercial-off-the-shelf (COTS) stage passed all preflight tests and validated the cost-containment strategy of leveraging COTS designs.
Precision motion and positioning equipment on Mars»
Linear Stages – High Accuracy Motorized Translation Stages»
Working with You
PI's in-house engineered solutions have enabled customers around the world to increase their productivity and technological advantage for 5 decades. With a large basis of proven motion technologies and methodologies, PI is in the position to quickly modify existing designs or provide a fully customized OEM solution to fit the exact requirements of your application from sensors and piezo transducers to microscope nano-focus units, fast photonics alignment systems to multi-axis automation sub-systems.
About PI
PI is a privately held company that designs and manufactures world-class precision motion and automation systems including air bearings, hexapods and piezo drives at locations in North America, Europe, and Asia. The company was founded 5 decades ago and today employs more than 1300 people worldwide. PI's customers are leaders in high-tech industries and research institutes in fields such as photonics, life-sciences, semiconductors, and aerospace.