Miniature Linear Guides suit compact machine builds.
Press Release Summary: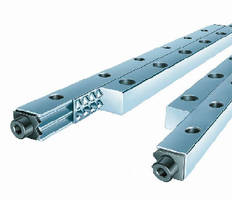 Comprised of at least 1 inner and 1 outer guideway pair, cylindrical roller flat cages, and end pieces, Miniature Linear Guidance Sets can support forces from all directions, apart from direction of motion. Arrangement of rolling elements enables systems to transmit loads at contact angle of 45°. Made from through-hardened steel and ground on all sides, guideways are screw mounted from above to adjacent construction and have fixing holes with counter bores for screw heads.
---
Original Press Release:

Miniature Linear Guides Suit Compact Machine Builds While Offering High Rigidity and High Load Capacity



A new range of miniature linear guidance sets has been specially developed to suit the latest generation of industrial machinery, which requires machine components that are compact and provide high performance and rigidity.

Schaeffler Group's INA Linear Technology Division has developed a range of miniature linear guidance sets that offer machine builders a number of technical advantages, including high performance, high rigidity and compact size.

The latest machinery and industrial automation systems are becoming smaller and more compact, while also demanding increased performance. Machine builders and designers are therefore under pressure to source machine components that offer a compact size and high performance. Unfortunately, these two characteristics often do not go hand-in-hand.

This issue is particularly important in bearings for miniature machine components, where it is often very difficult to satisfy the dual requirements of compactness, coupled with high rigidity and high load carrying capacities.

However, Schaeffler's new range of miniature linear guidance systems satisfies these often-complex requirements. The miniature guidance sets with cylindrical roller flat cages, for example, are ready-to-mount units that are designed for use as linear locating bearings. The guides are available in numerous guideway lengths, offering very cost effective system designs. A special corrosion-resistant version is also available.

Numerous applications

The guidance systems are ideally suited to applications with short stroke lengths; low-friction motion; oscillating movements; high loads, where high rigidity is also required; and for very high accuracy requirements.

Compared to linear guidance systems that use ball elements, the roller units offer significantly higher load carrying capacities. This is because the balls are in point contact with the raceways, whereas cylindrical rollers are in line contact.

Guidance systems with cylindrical roller flat cages are therefore preferred in applications where the units require very high load carrying capacity and rigidity, while operating over limited short stroke lengths. Due to their smooth running and high precision, the guides are also suitable for applications with very demanding accuracy/positioning requirements.

Design & Construction

A unit comprises at least one inner and one outer guideway pair of equal or unequal length, cylindrical roller flat cages and end pieces. The sets can support forces from all directions, apart from the direction of motion, and moments about all axes. Due to the arrangement of the rolling elements, they can transmit loads at a contact angle of 45 degrees.

In RWS1808 miniature linear guidance sets, two rows of rolling elements are in line contact with the raceways. This line contact means the units offer very high load carrying capacity and rigidity.

Cylindrical rollers are available in an 'O' or 'X' arrangement. The 'O' type offers higher rigidity and is better suited to supporting tilting moments. The arrangement can be altered by transposing the cages.

The linear guideways are made from through-hardened steel and are ground on all sides. The raceways for the rolling elements are precision ground. The guideways are screw mounted from above to the adjacent construction. They have fixing holes with counter bores for the screw heads.

The cages are of a two-row design. The strip used in the manufacture of the cylindrical roller flat cages is made from corrosion-resistant steel. Steel end pieces on the end faces of the carriages limit the travel of the cage and protect the raceways against contamination.

For more information on Schaeffler Group's range of miniature linear guidance sets, please visit www.schaeffler.co.uk or telephone the marketing department on 0121 351 3833 and ask for a free copy of publication TPI 162.

With a total of 66,000 employees at over 180 locations around the globe and group sales of 8.9 billion euros (fiscal year 2007), the Schaeffler Group is one of the world's leading rolling bearing manufacturers and automotive component suppliers. The corporate group includes the INA Group with headquarters in Herzogenaurach, the FAG Group based in Schweinfurt as well as the LuK Group, with headquarters in Buhl.

Schaeffler (UK) Ltd,

Forge Lane

Minworth

Sutton Coldfield

West Midlands B76 1AP

Tel: 0121 351 3833 Fax: 0121 351 7686

e-mail: info.uk@schaeffler.com

www.schaeffler.co.uk