Miniature Linear Guides are made from stainless steel.
Press Release Summary: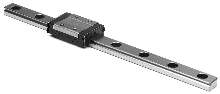 DP miniature linear guides provide recirculating ball tracks with 45° contact angles, allowing high load carrying capability in all directions. Largest guide measures 16 mm high x 9 mm wide and supports dynamic loads to 615 N and static loads to 1,315 N. Smallest guide measures 6 mm high x 3.5 mm wide and handles static loads to 335 N and dynamic loads to 550 N. All guides handle speeds to 3 m/sec and accelerations to 250 m/sec
2
.
---
Original Press Release:

Del-Tron Precision, Inc. Introduces Miniature Linear Guides At Up to 45% Cost Savings


(Bethel, CT; April 5, 2004) -- Del-Tron Precision has introduced a new line of DP miniature linear guides that offer high accuracy and load carrying capacity at a cost of up to 45% less than comparable alternatives. DP guides provide recirculating ball tracks with 45-degree contact angles, allowing high load carrying capability in all directions. For example, the largest guide in the line, the DP15, which is 16 mm high and 9 mm wide, supports a dynamic load of 615 Newtons and a static load of 1315 Newtons. On the other hand, the smallest guide, the DP5, which is 6 mm high and 3.5 mm wide, handles a static load of 335 Newtons and a dynamic load of 550 Newtons. The new miniature guides also fit within very tight quarters. For example, the DP5 has a rail that's only 5 mm wide and 3.5 mm high.

The new miniature guides offer a choice of normal, high and precision accuracy, offering users the option of the highest possible precision while not forcing them to pay for any more than they need. The precision accuracy guides maintain the height of the units to within +/- 10 microns and the width to within +/- 15 microns. The variation of height for different carriages on the same rail is held to within 7 microns and the variation of width to within 10 microns. The high accuracy guides maintain the height of the units to within +/- 20 microns and the width to within +/- 25 microns. The variation of height for different carriages on the same rail is held to within 15 microns and the variation of width to within 20 microns. The normal accuracy guides maintain the height and width of the units to within +/- 40 microns. The variation of height for different carriages on the same rail is held to within 25 microns and the variation of width to within 30 microns.

The new miniature guides provide a wide range of features that ensure long and reliable life. Maintenance is simplified by the fact that the rolling elements remain intact when the carriage is removed from the rail. Lubrication points at both carriage ends enable them to be easily maintained even in very tight quarters. Hardened stainless steel materials provide a high level of corrosion resistance. Double end seals resist contamination.

DP linear guides can operate in a temperature range of -40°C to 80°C and can withstand 100°C for short periods. They can handle speeds up to 3 m/s and accelerations up to 250m/s2. Two classes of preload are offered. Higher preload improves rigidity, precision and torque resistance of the guides while lower preload reduces friction and increases operating life.

For more information, contact Del-Tron Precision, Inc., 5 Trowbridge Drive, Bethel, CT 06801. Phone: 800-245-5013, Fax: 203-778-2721, e-mail: deltron@deltron.com, Web site: www.deltron.com