Miniature Laundry Tag measures 10 mm wide and 2 mm thick.
Press Release Summary: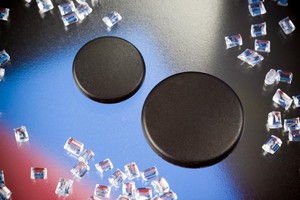 With RFID technology, S-Tag10 13.56 MHz transponder enables fast and automated sorting of soiled garments, linens, or mops in industrial laundries. Hermetically sealed tag is highly resistant to aggressive chemicals and acids, as well as thermal and mechanical stress. Designed for 200 washing and drying cycles in accordance with DIN EN ISO15797, it is available with ISO 15693-compatible chips. Tag is suitable for variety of harsh-environment industrial applications.
---
Original Press Release:

Sokymat Automotive Launches Miniature RFID Laundry Transponder



Frankfurt, Germany, May 30, 2008 - Sokymat Automotive GmbH, a global leader in the development, production and sale of RFID components, announces the introduction of a miniature laundry tag, the S-Tag10. The 13.56MHz transponder, only 10mm wide and 2mm thick, is one of the smallest laundry tags available on the market.

Until today, pre-sorting of soiled garments, linens or mops in industrial laundries in order to allocate each one to the proper washing process required manual handling. With RFID technology, this sorting process becomes much faster and more efficient, and can also be automated - something not possible with barcodes. Hygiene is thus improved and it is easier to avoid the loss of items thanks to seamless data management. For this application, specific wash-proof transponders resistant to aggressive chemical agents, moisture, dirt, heat and pressure are necessary in order to guarantee a long lasting solution.

The Sokymat Automotive S-Tag10 was developed with this goal in mind. Like the S-Tag16 16mm HF transponder introduced last year, the S-Tag10 is a robust hermetically sealed laundry tag highly resistant to aggressive chemicals and acids, as well as thermal and mechanical stress. Sokymat Automotive guarantees 100% reliability of the tag for 200 washing and drying cycles in accordance with DIN EN ISO15797 "Textiles - Industrial washing and finishing procedures for testing of workwear".

Due to its particularly small size, the S-Tag10 is ideal for personal garments in scenarios where individual items need to be tracked at all times to ensure peace of mind to the owner.

The S-Tag family is available with a variety of different ISO 15693-compatible chips. With the S-Tag10, Sokymat Automotive now offers a complete range of RFID transponders covering all textile identification applications. Moreover, the enhanced robustness of the tags makes them suitable also for a variety of harsh-environment industrial applications.

About Sokymat Automotive
Founded in 1964, Sokymat Automotive grew from a manufacturer of coils for electrical machines and microcoils for the watchmaking industry, into a producer of RFID transponders for automotive immobilizer systems. Today, with a highly motivated team of specialists and developers, Sokymat Automotive supplies its products to 26 automotive manufacturers across Asia, Europe and the United States, making it one of the industry's leading transponder providers. In addition, Sokymat Automotive designs and manufactures transponder products for other industries including bio & science, laundry and industry logistics.

For further information, please contact:
SOKYMAT AUTOMOTIVE GmbH
Gewerbeparkstrasse 10
51580 Reichshof-Wehnrath - Germany
Phone: +49 2265 9919 0
Fax: +49 2265 99 19 11
info@sokymat-automotive.de
www.sokymat-automotive.de

Related