Miniature In-Line Filters enhance flow control.
Press Release Summary: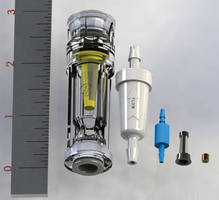 Meeting needs of manufacturers and OEM designers, miniature in-line filters come with ports and micron ranges to handle applications in smaller spaces. Flow diameters are available down to 3 mm or 1/16 in., and pore sizes run as low as 0.2 microns. With housing and filter media offered in various materials, products are available in variants ranging from tiny inserts to completed assemblies in plastic housings for immediate use in flow control circuitry.
---
Original Press Release:

ISM Introduces New Line of Miniature Filters for Flow Control



ENGLEWOOD, CO – Industrial Specialties Mfg. (ISM) now offers manufacturers and OEM designers a more extensive lineup of miniature in-line filters with many new feature options.



Miniaturization has long been a design trend in electronics. This approach has evolved to include air and fluid flow control miniaturization. The proliferation of "smaller-is-better" designs continue to deliver reduced manufacturing costs, consumables expenses, shipping costs and space requirements. "Customer design specifications continue to evolve and expand", said James Davis, president of Colorado based ISM, "and flow control miniaturization has become a major driver of product development."



ISM recognizes that OEM design preferences include an increasing need to reduce operating complexity and costs while increasing accuracy and reliability. They also believe current market trends require miniature in-line filter offerings comprehensive enough to meet the ever-increasing demand for compact components. The recent expansion of ISM's miniature in-line filters offering is part of the company's ongoing commitment to provide an extensive and useful assortment of miniature parts, manufactured in North America with quality as the number one priority.



In addition, ISM has taken advantage of developments in manufacturing techniques for producing ever-smaller miniature in-line filters. These filter designs come with ports and micron ranges to handle a wide range of applications in smaller spaces. Flow diameters range down to 3 millimeters or 1/16 inch and pore sizes run as low as 0.2 microns while housing and filter media are offered in an increased variety of materials. Miniature filters are offered from tiny inserts to completed assemblies in plastic housings for immediate use in flow control circuitry.



Examples of the range of ISM customer miniature flow control design projects include:

·        Biological specimen flexible transport system with built in gas venting and filtration

·        Automated lens cleaning system for miniature video cameras in exposed environments

·        Course particle filtration for small-scale portable and easy-to-maintain potable water systems



ISM is ISO 9001:2008 certified to assure quality control processes. This emphasis on quality guides all product development, customer service, logistics and custom component and sub-assembly projects.



For more information, samples or technical specifications call Industrial Specialties Mfg. at 303-781-8486 or visit www.industrialspec.com