Miniature IEPE Accelerometers suit high-frequency vibration applications.
Press Release Summary: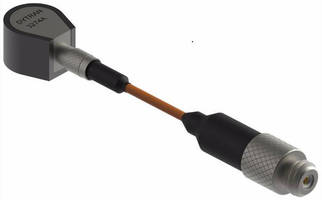 With 10,000 Hz upper frequency response and 0.24 in. overall height, 3274A series can mount in typically inaccessible spaces. Models offer sensitivities of 5, 10, and 25 mV/g and feature shear sensing element in teardrop titanium housing. Used to measure shock and vibration of small, lightweight objects such as PCBs and board-mounted components, hermetically sealed series is designed for adhesive mount, utilizes IEEE 1451.4 TEDS, and has resonant frequency of greater than 40 kHz.
---
Original Press Release:

Miniature IEPE Accelerometers for High Frequency Vibration Applications, 3274A Series



Chatsworth, CA - Dytran Instruments, Inc. (www.dytran.com) a leading manufacturer of piezoelectric and DC MEMS accelerometers, force and pressure transducers and associated electronics, has introduced the 3274A series of miniature, low profile, IEPE piezoelectric accelerometers designed to mount in spaces typically inaccessible to other types of accelerometers.

Available in three different models with sensitivities of 5 mV/g, 10 mV/g and 25 mV/g, the 3274A series feature a shear sensing element packaged in a lightweight, teardrop titanium housing. Units are ideal for the measurement of shock and vibration of very small, lightweight objects such as printed circuit boards and board-mounted components. Designed for adhesive mount, the Dytran 3274A series have an upper frequency response of 10,000 Hz, an overall height of just 0.24 inches and weigh 2 grams. Due to their low mass and high crystal stiffness, units have a resonant frequency of >40 kHz, allowing them to be used to measure high frequency vibration with very little error.

The Dytran 3274A family of accelerometers utilizes IEEE 1451.4 Transducer Electronic Data Sheets (TEDS). This function allows the user to query individual sensors within a large array of sensors during a field test, as to model number, serial number, sensitivity and other attributes using a TEDS compatible signal conditioner/data acquisition system.

Units utilize a specially designed 3-56 coaxial connector, mating with a field-replaceable coaxial cable, model 6003A03, and terminating to a 10-32 jack (supplied). The 3274A series is hermetically sealed for reliable operation in high-humidity and dirty environments and case isolated to avoid EMI/ground loop interference.

For more information about the 3274A series or other products available from Dytran, or to order online, visit www.dytran.com.

About Dytran Instruments, Inc.:
Founded in 1980, Dytran Instruments, Inc. designs and manufactures a full line of piezoelectric and DC sensors. The company's world-class product range includes miniature and triaxial accelerometer models, high temperature sensors with built-in electronics (IEPE), variable capacitance DC sensors with low-noise differential output, and sensors with built-in TEDS capabilities. Dytran also offers a complete range of impulse hammers, piezoelectric force and pressure sensors, electronics, cables, and accessories for dynamic measurements, with full in-house customization capabilities. Since its founding, Dytran sensors have become among the industry's most popular choices within a variety of applications, including modal and structural analysis; flight test; HALT/HASS/ESS; Health and Usage Monitoring Systems (HUMS); mechanical impact testing; product testing; vehicle dynamics; and space related applications. The team at Dytran prides itself on its high level of customer responsiveness, as well as its focus on developing and maintaining strong customer relationships. The "people factor" is which continues to make Dytran a success. To learn more, visit www.dytran.com.

For more information: www.dytran.com/go.cfm/en-us/content/pressreleases-3274a/x?SID=

Additional link: www.dytran.com/img/products/3274A1.pdf

More from Sensors, Monitors & Transducers