Miniature Fuse/Clip Assembly simplifies PCB fuse replacement.
Press Release Summary: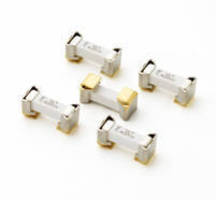 Intended for over-current protection of PCBs, 160 Series 250 V time-lag, SMT fuse/clip assembly offers current ratings from 500 mA to 5 A, with maximum inrush current withstand of 127 A²s and interrupting rating of 50 A at 250 Vac. Unit measures 10.90 x 4.80 x 4.80 mm, and fuse clip holder prevents fuse from opening during momentary overloads. Assembly is RoHS compliant, halogen-free, and designed for LED lighting, lighting system, power converter, and telecom equipment.
---
Original Press Release:
Littelfuse New 250 V Miniature Fuse/Clip Assembly Enables Easy Circuit Board Level Fuse Replacement
New 160 Series surface mount fuse/clip assembly offers high inrush current withstand capability and ability to replace fuses without exposing the circuit board and other components to the risks of rework solder heat CHICAGO, Illinois, August 13, 2009 - Littelfuse (NASDAQ: LFUS) announces today the launch of the 160 Series 250V time-lag surface mount fuse/clip assembly device for over-current protection of printed circuit boards. The 160 Series is suitable for applications requiring both high current withstand capability for unpredictable low pulse/surge currents as well as quick and easy field replacement of blown fuse. It is RoHS compliant and Halogen-free. In a dimension of approximately 10.90 mm (L) X 4.80 mm (W) X 4.80 mm (H), the 160 Series fuse offers the current ratings from 500mA to 5A, with a maximum inrush current withstand (I2t ) of 127A2secs and an interrupting rating of 50A at 250VAC. The fuse clip holder lowers the probability of fuse opening during momentary overloads. The fuse clip holder also makes possible field replacement of fuse which brings down rework and maintenance cost brought by the warranty on board replacements. As an intangible benefit, the field replaceable feature also avoids exposing other sensitive components to the risks of reworking and excessive soldering heat. This fuse/clip assembly was designed particularly for LED lighting, lighting system, power converter and adaptor as well as telecom equipment. This product complements the broad line of Littelfuse surface mount fuses used on secondary side of power circuits, with ratings from 62mA to 15A at voltages from 24V to 350V. The 160 Series is available in tape and reeled packaging, orders typically take 4-6 weeks ARO. For additional specification information and to request samples, please visit the Littelfuse web site at www.littelfuse.com/series/160.html or contact your local Littelfuse Technical Support Expert. For circuit protection application design ideas, please visit the new Application Design Center section of the Littelfuse web site. If you have questions or require technical support please contact the Littelfuse technical support hotline at 1-800-999-9445. About Littelfuse
As the worldwide leader in circuit protection products and solutions with annual sales of $531 million in 2008, the Littelfuse portfolio is backed by industry leading technical support, design and manufacturing expertise. Littelfuse products are vital components in virtually every product that uses electrical energy, including automobiles, computers, consumer electronics, handheld devices, industrial equipment, and telecom/datacom circuits. Littelfuse offers Teccor®, Wickmann® and Pudenz® brand circuit protection products. In addition to its Chicago, Illinois, world headquarters, Littelfuse has sales, distribution, manufacturing and engineering facilities in Brazil, China, England, Germany, Hong Kong, India, Ireland, Japan, Korea, Mexico, the Netherlands, the Philippines, Singapore, Taiwan and the U.S. For more information, please visit Littelfuse's web site at www.littelfuse.com.
More from Electrical Equipment & Systems