Miniature Connectors suit space-constrained applications.
Press Release Summary: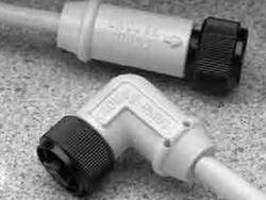 Compatible with pin configurations used by U.S. and Europe manufacturers, Micro Mini AC and DC Plugs are molded to 300 V, 22 AWG, AWM cable rated for 105°C. Units come in straight and right angle versions meeting SAE No. 1738-2 specifications, and feature epoxy-coated zinc die cast coupling nut with vibration-resistant ratchet design. AC plugs are available in 22 AWG braided cable or 18 AWG TPE cable.
---
Original Press Release:

Connectors for Miniature Applications



Duraline manufactures the world's highest quality, custom designed, submersible, IP68 rated connectors and outdoor lighting. Duraline Rubber Molded Watertight / Waterproof / Submersible Safety Electrical Products, Multi Pin Inline Male and Female Plugs, CAM Connectors, Receptacles Wiring Devices Molded to Heavy Duty SOOW 600 Volt Cable Many Styles are IP68 Rated / CSA Approved. Connectors and Plugs designed for quick disconnect of power, control and lighting power. Our Connectors can be supplied with molded to cable GFCI outlet boxes or Ground Fault Circuit interrupter GFCI reset on waterproof outlet boxes. New from Duraline – Introducing an extended miniature line of plugs & connectors compatible with pin configurations used by US & Europe manufactures. Micro mini AC & DC plugs molded to cable on 300 volt 105 degree C 22AWG, AWM cable. Now available in straight & right angle versions meeting current SAE #1738-2 specifications. Other features include epoxy coated zinc diecast coupling nut with a vibration resistant ratchet design. AC connectors plugs are available in 22 AWG braided cable or 18 AWG TPE cable. Duraline's expertly engineered electrical connectors and outdoor lighting products are factory mutual tested and approved, exceed O.S.H.A and NEMA requirements, and are suitable for IEC Class IP67 and NEMA Class 6 applications. Duraline's products have been used for countless purposes over the years. Typical applications and industries for Duraline's catalog of electrical products include food processing, highways, amusement parks, various entertainment events, cruise lines, shipyards, oil refineries, sewage treatment plants, construction sites, automotive manufacturing facilities, medical facilities, and various other indoor and outdoor situations. Duraline, a division of J.B. Nottingham & Co., Inc., is a leading manufacturer of safety engineered, electrical power distribution systems designed to withstand rough handling and severe weather conditions. Established in 1946 as a supplier of heat-treating distribution systems to the US Navy, Duraline's principal offices and manufacturing facilities are located in Deland, Florida. Duraline sells and services its specially engineered systems throughout the United States and Canada. For more information on the Duraline products, contact Duraline, 1731 Patterson Ave, Deland, FL 32724. Call: 386-873-2990, or Fax: 386-873-2995. Visit Duraline on the World Wide Web at jbn-duraline.com.

More from Construction Equipment and Supplies