Miniature Circular Connector features rugged metal shell.
Press Release Summary: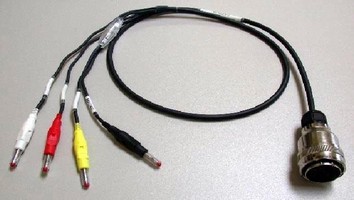 KPTC Series backshell connector includes IP67 sealing and gold-plated contacts for harsh environments, as well as bayonet coupling for mating and unmating. With lifespan to at least 500 mating cycles, connector is capable of integrating custom harnessing rigs and wide range of wire gauges. Contact current rating at 20°C is 7.5 A for size 20 connector and 22 A for size 16 connector, with contact resistance of 14.7 and 3.8 mW, respectively.
---
Original Press Release:

ITT Develops Metal Shell Circular Connector Solution for Luxury Car Manufacturer



SANTA ANA, Calif. - April 28, 2008 - ITT Interconnect Solutions, a leading global manufacturer and supplier of connectors, interconnects, and cable assemblies, has developed a miniature circular connector solution. Designated the KPTC Series, the backshell connector provides high contact density in a rugged metal shell and was originally developed for a luxury car manufacturer and an associated subcontractor to accommodate specific harnessing requirements within automotive diagnostic equipment.

"Leveraging a strong sourcing capability in Asia, robust product engineering and industry leading lean manufacturing capabilities, we were able to develop a custom backshell solution to meet both the specifications and price targets of our customer," said Keith Teichmann, director of marketing for ITT Interconnect Solutions.
"The design of the KPTC Series connectors also makes them ideal for use in industrial machinery, motion control, power generators, engine control, and mobile phone base stations, along with multi-signal specialty harnessing integration."

The KPTC Series connector is capable of integrating custom harnessing rigs and a wide range of wire gauges. Additional features include IP67 sealing and gold plated contacts, allowing the connector to withstand harsh environments, as well as bayonet coupling for quick and simple mating and unmating. A shielded endbell is available for fast assembly.

Offered in size 20 and size 16 contacts, the KPTC Series connector features a lifespan to at least 500 mating cycles. Contact current rating at 20°C is 7.5A for the size 20 connector and 22A for the size 16 connector. Contact resistance is 14.7mohms and 3.8mohms, respectively.

Typical pricing for the KPTC Series circular connector ranges from approximately $23 to $26 each. Lead time is 6 weeks.

About ITT Interconnect Solutions
ITT Interconnect Solutions is an international manufacturer and supplier of connectors including circular, rectangular, fiber optic, RF, power and high voltage, audio, PCMCIA, Compact Flash Card, enclosures, cable assemblies, and application specific custom solutions. The Interconnect Solutions portfolio includes the brands Cannon, VEAM, and BIW. For more information on ITT Interconnect Solutions and an archive of its press releases, please visit www.ittcannon.com.

About ITT
ITT Corporation supplies advanced technology products and services in several growth markets. ITT is a global leader in the transport, treatment and control of water, wastewater and other fluids. The company plays a vital role in international security through its defense communications and electronics products; space surveillance and intelligence systems; and advanced engineering and related services. It also serves the growing leisure marine and electronic components markets with a wide range of products. Headquartered in White Plains, NY, the company generated $7.8 billion in 2006 sales.

Leads Contact:

Nas Hashemian
ITT Interconnect Solutions
666 East Dyer Road
Santa Ana, CA 92705
Tel.: +714-628-8370
Fax: +714-628-2249
Email: nas.hashemian@itt.com

Web: www.ittcannon.com

For more information, call 919-872-8172, or e-mail bgaddy@btbmarketing.com

More from Material Handling & Storage