Miniature Circuit Breaker complies with UL/CSA/IEC standards.
Press Release Summary: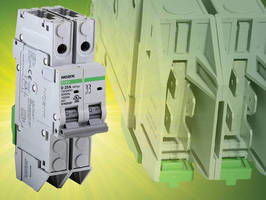 Used in commercial and residential applications, B1NQT recyclable, quick-connect breaker is available in 3 curves (B/C/D) and ranges from 0.5–63 A. This 1- and 2-pole breaker, offered at 120/240 Vac and 60 Vdc, provides protection against shorts and overload conditions for branch and control circuits. Thermal-magnetic current limiting unit is available with optional detachable shield as well as front mount through-door hardware and quick-connect terminal plugs on load side.
---
Original Press Release:

NOARK Electric Releases UL 489 B1NQT Breakers



Pomona, California – NOARK Electric, a leading low-voltage electrical product manufacturer, announces the latest edition to the B1N miniature circuit breaker family: the UL 489 B1NQT. This recyclable, quick-connect breaker is available in three curves (B, C and D), ranges from 0.5 to 63 A and has an optional detachable shield to make it faster and easier for the installer. 



The B1NQT is compliant with UL/CSA/IEC standards for branch circuit protection in commercial and residential applications. The current-limiting B1NQT is thermal-magnetic and protects against short circuit and overload conditions. The 1- and 2-pole breaker, offered at 120/240 Vac and 60 Vdc, provides optimum and efficient protection for branch and control circuits. Additional new options include front mount through-door hardware and optional quick-connect terminal plugs on the load side. The B1NQT offers the same product quality, reliability and global safety without compromise to form, fit or performance as the other NOARK B1N series breaker family members.



NOARK Electric provides reliable products, improves profitability and maintains the highest performance levels.  The NOARK B1N breaker series is suited for a host of industrial applications, including HVAC equipment and other component sub-assembly designs. NOARK offers exceptional value with local support and inventory for a wide range of UL 508A panel designs, all backed by the industry's first 5-year limited warranty.



NOARK Electric will display this new product and its full line in booth #1379 at the upcoming AHR 2016 show in Orlando, Florida. Additionally, NOARK will present a brief session to the HVACR industry, covering the B1NQT and additional NOARK product lines on Tuesday, January 26 at 4:00 p.m. in Theatre C, room N320G. Free AHR show passes can be obtained by contacting NOARK.



NOARK Electric (North America), located in Pomona, CA, is a global electrical component and intelligent control system supplier. The company is establishing a representative and distribution network to serve its primary markets, which include the building trades and electric panel board builders in various industries. As a global supplier, NOARK currently operates four R&D centers, three distribution centers, 15 office locations and employs over 1,000 associates. Sales currently exceed $2 billion worldwide.



For more information on this product, consult your local sales representative or email: nasales@noark-electric.com.



Contact:

Jessie Jones

Marketing Manager

NOARK Electric (North America)

2188 Pomona Blvd.

Pomona, CA 91768

Phone: 626-330-7007

Website: na.noark-electric.com

Email: nasales@noark-electric.com