Miniature Bluetooth Smart Module targets IoT solutions.
Press Release Summary: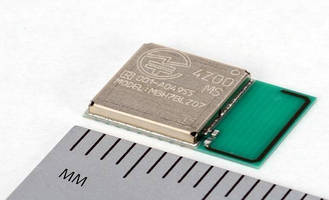 Fostering development of small, wearable, lightweight, battery-powered, Internet-enabled wireless devices in healthcare, fitness, and consumer entertainment applications, PN MBH7BLZ07 Bluetooth® Smart module measures 11.5 x 7.9 x 1.7 mm and is based on Nordic Semiconductor nRF51822 chipset with 32-bit ARM® Cortex™ M0 CPU featuring 256 kB flash and 16kB RAM. FCC-approved solution operates from -40 to +85°C, consumes 10.5 mA (typ for 0 dBm in Tx mode), and has embedded antenna.
---
Original Press Release:

Fujitsu Releases Miniature Bluetooth® Smart Module for IoT Solutions



SAN JOSE, CALIF. – Fujitsu Component America, Inc. announces the availability of an ultra small Bluetooth® Smart module that is approximately 50 percent smaller than its predecessor, the MBH7BLZ02. With its combined compact size and low power consumption, the new module reduces the cost and time to develop even smaller and lighter battery-powered wireless devices capable of operating much longer than before.



Fujitsu's module, PN MBH7BLZ07, measures 11.5 x 7.9 x 1.7mm. It is based on the Nordic Semiconductor nRF51822 chipset (IC Rev. 3, S110 Ver. 8.0.0), which is built around a 32-bit ARM® Cortex™ M0 CPU with 256kB flash and 16kB RAM. With its industrial temperature range of -40 to +85 degC, low 10.5mA power consumption (typical for 0dBm in Tx mode), and an embedded antenna, the FCC-approved module is well suited for wearable, Internet-enabled devices in healthcare, fitness, and consumer entertainment applications.



The module contains Fujitsu's unique data communication profile, which allows data communications without the need to develop profiles and software. Settings can be managed by a variety of simple, text-based control commands (UART) to facilitate integrating the module into new products. Alternatively, Fujitsu offers the module in a blank version (PN MBH7BLZ07-109033) without embedded firmware, which can utilize the extensive Nordic software library for application development, with full access to the onboard ARM® Cortex M0 CPU.



Samples and evaluation kits are available now. For more information, see Where to Buy.



For more information:

http://www.fujitsu.com/us/about/resources/news/press-releases/2015/fcai-20151027.html



Company Information

Fujitsu Components America, Inc. markets and distributes electronic and system components and sub-systems throughout North and South America. Products include relays, connectors, input and pointing devices, touch panels, thermal printers, and wireless modules. The company is headquartered at 2290 North First Street, Suite 212, San Jose, CA 95131. For product information, contact FCAI via telephone at 1-800-380-0059 or by email at components@us.fujitsu.com.



For more information, please see: us.fujitsu.com/components.



All trademarks or registered trademarks are the property of their respective owners.

More from Architectural & Civil Engineering Products