Miniature Beam Couplings cover peak torque of 0.62-0.9 Nm.
Press Release Summary: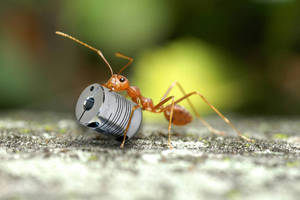 Available with OD of 9.5 and 12.7 mm and bore dia of 3 mm, P-series beam couplings are made from single piece of aluminum or stainless steel with overlapping spiral cuts. They are offered in set screw style or clamp-style versions, which have zero-backlash and can accommodate angular misalignment of up to 3° and radial misalignment of up to 0.2 mm. Applications include medical devices, liquid handling equipment, and inspection equipment.
---
Original Press Release:

Small But Strong - Miniature Beam Couplings for Micro Component Applications



Marlborough, Massachusetts, May 2009. For micro component applications, Ruland now offers miniature beam couplings. Available with outer diameters of 9.5 and 12.7 mm and bore diameters of 3 mm, the couplings are made from a single piece of aluminum or stainless steel with overlapping spiral cuts. Common applications for miniature beam couplings include medical devices, liquid handling equipment, test and measurement instruments, inspection equipment, and other high-precision applications such as small encoders, stepper motors, and tachometers.

Ruland's P-series beam couplings are made from aluminum and cover a peak torque range of 0.62 to 0.9 Nm. Available in set screw style or clamp-style versions, these couplings have zero-backlash and can accomodate angular misalignment of up to 3° and radial misalignment of up to 0.2 mm. For increased torque capacity and corrosion resistance, the beam couplings are also available in stainless steel.

For applications with restricted space, where standard P-series couplings do not fit, Ruland offers even more compact versions of its miniature couplings. The compact I-series beam couplings are secured to the shaft with a single set screw for each hub.

Beam couplings are part of Ruland's complete product line which also includes shaft collars and rigid couplings with precision honed bores, and five types of zero-backlash motion control couplings including bellows couplings, oldham couplings, jaw couplings and miniature disc couplings.

Direct link to product: www.ruland.com/ps_couplings_flexible.asp

Company Information:

Ruland Manufacturing Co., Inc. was established in 1937 and has made a variety of precision products including the valve that pressurized the spacesuit of the first American to walk in space. Ruland's focus for the past 40 years has been on high performing shaft collars and couplings. The complete line of products includes shaft collars and rigid couplings, and a full line of motion control couplings: beam couplings, bellows couplings, oldham couplings, miniature disc couplings and zero backlash jaw couplings.

Contact:

Ruland Manufacturing Co., Inc.

6 Hayes Memorial Drive

Marlborough, MA 01752

Phone 508 485 1000

Fax 508 485 9000

E-mail marketing@ruland.com

Internet www.ruland.com

More from Electronic Components & Devices