Miniature Ball Valve features ¼-28 UNF straight threads.
Press Release Summary: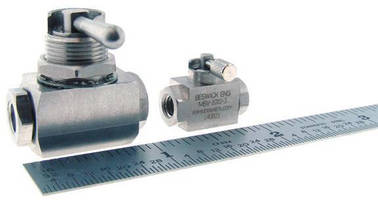 Targeting applications requiring compact on/off valve, MBV-1414-3 is designed with ¼–28 UNF straight threads and orifice diameter of 0.125 in. and weighs 34 g. Construction is of 303 Stainless Steel, PTFE seat is used to seal ball on all configurations, and max supply pressure is rated at 250 psig. While standard o-ring seal is Buna-N, optional materials include EPDM, Viton®, and Silicone.
---
Original Press Release:

Unique Beswick Ball Valve with ¼-28 UNF Straight Threads. Think Miniature or Not. You Decide.



A few years ago, Beswick introduced the smallest 10-32 threaded ball valves in the miniature fluid power industry. (As you probably already know, Beswick has a tradition of design innovation dating back to the 1960s and is well respected for building the best "mousetraps" in terms of fluid power products.) These 10-32 threaded ultra-miniature ball valves offered many advantages and, not surprisingly, when all the votes were counted the Beswick MBVMD-1010-303 ball valve won Design News Magazine's The Best New Product Award in 2011.



The MBVMD-1010-303 ball valve is a perfect solution for many miniature high technology type applications. You can think of it as the "baby bear" of ball valves. There are times, however, when you need a precision ball valve that is more compact than traditional NPT threaded ball valves but can also provide more flow than is possible with 10-32 threads and a relatively small orifice. That configuration is not easy to find. So, where do you turn?



Beswick of course! The Beswick MBV-1414-3 ball valve is designed with ¼-28 UNF straight threads and a relatively large orifice diameter of 0.125 inch. It weighs only 34 grams. That isn't much yet it provides more than 3 times as much flow area as the 10-32 threaded MBVMD-1010-303. You can think of the MBV-1414-3 as the "father bear" of miniature ball valves.



E-mail us now if you'd like a copy of our catalog. If you have an immediate question you can reach a Beswick Applications engineer by calling 603-433-1188, e-mailing besales@beswick.com, or by conversing with one of our engineers via our website www.beswick.com



Leverage our 51 years (we've been at this for awhile) of expertise to solve your difficult application today.



Michael Donati

Beswick Engineering Co., Inc.

"Excellence in Miniature since 1964" Our 51st year in business!

284 Ocean Road

Greenland, NH 03840-2442 USA

e-mail: mdonati@beswick.com

website: www.beswick.com



Thank you to all who visited us at ATX West Show/MDM West Medical Show in Anaheim, CA - Booth # 4550