Miniature Ball Screw includes spring-preloaded double nut.
Press Release Summary: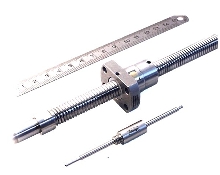 Series 1510 compensates for torque variations due to inaccuracies in ground thread. Diameters range from 3 to 16 mm with pitch down to 0.5 mm. Standard nut body is cylindrical with attaching thread. Applications include semiconductor production machines, inspection equipment, microscope stages, and miniature robotics. Series 1530 offers rolled thread for less demanding positioning applications. Diameters range from 8 to 16 mm, with pitches down to 0.5 mm.
---
Original Press Release:
New Miniature Double Nut Ball Screws With Spring Preload Ensure Extremely Smooth Motion

Bedford, MA, May 15, 2002 -- Steinmeyer, Inc. announced a significant addition to its standard line of miniature precision ball screws. The Series 1510, equipped with a spring preloaded double nut, effectively compensates for torque variations due to inaccuracies in the ground thread. The result is extremely smooth motion with near constant idling torque - a critical requirement in many scanning applications. The Series 1510 is available in diameters from 3 to 16 millimeters with pitches down to an incredible 0.5 millimeters! The standard nut body is cylindrical with a convenient attaching thread. A secondary benefit of the spring preload is its inherent ability to compensate for any wear that occurs over time. A complementary
product line, the Series 1530 miniature ball screws, is available with rolled thread for less demanding positioning applications. The Series 1530 is offered in a more limited range of diameters from 8 to 16 millimeters, with pitches down to 0.5 millimeters.

While announcing the new Series 1510 recently, George Jaffe, Executive Vice President observed: "Smooth motion can be difficult to achieve in a preloaded ball screw, even if it's
precision ground. Why? Because any lead error adversely affects preload, either making it looser or tighter as the nut travels down the length of the thread. The result - your servo system
works overtime trying to compensate for the torque variations. One solution is to increase the lead accuracy. But that can get very expensive. Steinmeyer has the better solution - a spring
loaded nut that compensates for preload and diameter variations as the nut moves down the length of the screw thread. It simplifies linear velocity control!"

Applications for the Series 1510 ball screw include semiconductor production machines, inspection equipment, microscope stages, medical scanning devices, miniature robotics, and analytical equipment.

For further information on Series 1510 Miniature Double Nut Ball Screw with Spring Preload call 1-800-297-6403 or visit www.steinmeyer.com
More from Services