Mini-Split A/C Condensate Pump combines capacity, compact design.
Press Release Summary: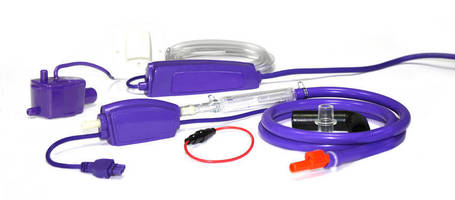 Suited for mini-split condensate management, ductless MicroV offers plug-and-play power/communication connection and employs Univolt power supply that automatically recognizes 100–250 V input without any capacity changes. Silent+ technology, featuring anti-vibration bracket, acoustic dampener, and sound-attenuating high performance motor, enables < 21 dB(A) rating. Pump can remove 3.8 gph of evaporator drain pan condensate on all minisplits up to 66,000 Btu/h or 5.5 tons.
---
Original Press Release:
RectorSeal's Aspen MicroV Mini-Split Condensate Pump Features Silent+ and Univolt Technology
Higher capacity, compactness and low noise complements the univolt power supply's diverse voltages and labor-saving 'plug-and-play' connection cable plugs.

RectorSeal® Corp., Houston,  the U.S. and Canada representative for Aspen Pumps, introduces the MicroV ductless mini-split air-conditioner condensate pump, which combines the industry's quietest-running Silent+ technology with a univolt power supply and installation labor-saving 'plug-and-play' power/communication connection cable.

The violet color-coded MicroV is ideal for mini-split condensate management applications requiring compactness, high capacity and low noise. The MicroV's Silent+ technology features an anti-vibration bracket, an acoustic dampener, a proprietary sound-attenuating high performance motor and one of the industry's quietest pump ratings of less than 21-dB(A). The powerful pump removes 3.8-gallons/hr of evaporator drain pan condensate on all minisplit brands ranging up to 66,000-Btu/h or 5.5-tons.

The univolt power supply automatically recognizes input voltages from 100 to 250V without any capacity changes, therefore it eliminates potential performance fluctuations caused by electrical supply variations. It also prevents mismatched voltage connections. The compact 5-3/16 x 1-3/8 x 1-3/8-inch MicroV includes a five-foot-long power cable and reduces the number of condensate pumps wholesalers need to stock.

The MicroV's labor-saving plug-and-play wiring enables quick pump installation or replacement without requiring a second pair of hands, because power and communication cables are connected with easily attachable/detachable, slide-together pre-wired plugs. The MicroV is also classified as a Class II appliance, which eliminates the requirement for ground wires.

The MicroV's ultra slim design of a 4-3/16 x 1-1/2 x 1-1/4-inch pump allows for aesthetic, flexible concealment inside mini-split evaporator housings, within wall-mounted line set protection duct or in a remote location. The reservoir is also compact at 2 x 1-3/8 x 1-5/8-inches.

Other MicroV features are:

• Includes Aspens' anti-siphon device that prevents the pump from auto-siphoning and emptying itself, the reservoir or the connecting hose. Anti-siphoning also eliminates ineffective operation, which potentially results in excessive noise, overheating and premature pump failure;

• Unlike conventional 208-230V pumps, it still operates unharmed during 10-percent or more low voltage drops;

• Compatible with all mini-split air conditioners brands and models;

• Includes 1/2-inch-diameter violet-colored inlet and 1/4-inch suction tube;

• Drain kit includes a rubber elbow for connecting the reservoir directly to the drain pan eliminating the factory-included 5/8-inch hose, which preserves accessibility and space in the line set compartment below the drain pan;

• Capacity boasts 6.6-foot of suction lift and 33-feet of recommended head;

• Availability through all major HVAC wholesale distributors;

The violet-colored MicroV complements Aspen's renowned Mini-Aqua, one of the world's slimmest pumps that's perfect for concealment similar to the MicroV. It also complements the Lime Series and Orange Series mini split condensate pumps for concealing pumps inside wall-mounted lineset protection duct elbows or remotely behind walls and in ceiling spaces, respectively. Aspen's White Series is an aesthetic matching surface mount for the evaporator case exterior.

For additional information on all of RectorSeal's Aspen Pump products and its comprehensive range of mini-split installation accessories, please visit www.rectorseal.com; email: marketing@rectorseal.com; or call 800-231-3345.

About RectorSeal: The RectorSeal® Corporation is a leading manufacturer of chemical and specialty products designed for professional tradesmen. Steady growth over the years has been maintained through a commitment to providing high quality products and services. With a diversified business strategy, RectorSeal aggressively pursues new and unique technologies to serve the plumbing, heating, air conditioning, electrical and construction industries. The RectorSeal Corporation is devoted to providing innovative quality products supported by strong customer and technical service. For more information,  visit www.rectorseal.com, email marketing@rectorseal.com or call (800) 231-3345.
More from Fluid & Gas Flow Equipment