Mini Soft Starts provide starting and stopping control.
Press Release Summary: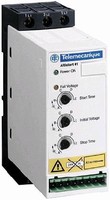 Available in torque limiting, low power, and high power models, Altistart(TM) 01 Soft Starts meet needs of fractional and low horsepower single-phase and 3-phase asynchronous motors, from ¼-75 hp at 110-575 V. They can be used with most any motor starter and offer alternative to low horsepower, electromechanical reduced voltage starters. Installation offers option of DIN rail or panel mounting, contactor-style power wiring scheme, and removable control wiring terminal.
---
Original Press Release:

Mini Soft Start From Schneider Electric Packs Advanced Motor Control Into A Small Package



PALATINE, Ill. - May 31, 2007 - The Telemecanique® brand Altistart(TM) 01 mini soft starts from Schneider Electric provide sophisticated starting and stopping control for motors in a small package. Altistart 01 mini soft starts are available in three different performance levels to meet the application needs of a wide range of fractional and low horsepower single-phase and three-phase asynchronous motors, from 1/4 to 75 HP at 110-575V. Most Altistart 01 mini soft start models are just 45 mm wide, the standard width for IEC low horsepower motor starters, and are up to 40 percent smaller than previous models. Capable of being used with most any motor starter, the Altistart 01 mini soft start is a feature-rich alternative to low horsepower electromechanical reduced voltage starters.

"The Altistart 01 mini soft start limits stress on the mechanical parts of a machine and reduces the cost of maintenance and downtime by providing smooth motor starting and stopping control for applications that are not high horsepower and do not require high starting torque," said Tim Roberts, controls product manager, Schneider Electric North America.

Installation of Altistart 01 mini soft starts is quick and simple with the option of DIN rail or panel mounting, a contactor-style power wiring scheme, and a removable control wiring terminal. Side-by-side mounting can save up to 25 percent of valuable panel space. The mini soft start can be used to add the benefits of soft starting to any existing motor starter and is ideal for retrofit applications and other common uses, such as material handling conveyors, belt-driven machinery, fans, pumps, automatic doors and gates, small compressors and process machinery.

"The Altistart 01 mini soft start offers an affordable alternative to variable speed drives as its modular design means lower costs for customers due to reduced installation time and materials, as well as lower energy costs," Roberts said.

The Altistart 01 mini soft start family consists of three performance levels, including:

ATS01N1 Torque Limiting: Designed for applications that only require motor torque to be limited during start-up with fractional motors rated from 3 to 12A (1/4 to 3 HP at 230V). These models can control both single- and three-phase motors rated for 110, 208, 230, 400 and 460V. Most types of single-phase motors can be soft started, including split-phase induction, capacitor start and shaded pole.

ATS01N2 Low Power: These low horsepower models are compatible with the innovative Telemecanique brand TeSys® U-line(TM) motor starter. The advanced functionality of this combined solution includes full motor and machine protection, integrated diagnostics capabilities, status-reporting, and the capability to program through PowerSuite(TM) programming software. Both network monitoring and control is available through TeSys U-line communication modules adapted for the following protocols: Modbus®, CANopen, Ethernet TCP/IP, DeviceNet, Profibus DP or AS-Interface (AS-i). This portion of the family is designed for three-phase motors ranging from 6 to 32A at 208 to 460V (2 to 20 HP at 460V).

ATS01N2 High Power: The higher horsepower portion of the ATS01N2 family is designed for three-phase motors rated from 32 to 85A at 208, 230, 460 and 575V (20 to 60 HP at 460V). Sized for heavy duty applications with start and stop times up to 25 seconds, these models are rated for ambient temperatures up to 130°F (54°C) and elevations up to 6,600 feet (2,012 meters). Integration is simple with standard two- or three-wire control, isolation contactor control and DIN rail mounting.

For more information on the Altistart 01 mini soft starts or other Telemecanique automation and control products from Schneider Electric, call 1-800-392-8781 or visit www.us.telemecanique.com.

Headquartered in Palatine, Ill., the North American Operating Division of Schneider Electric had sales of $3.7 billion (U.S.) in 2006. The North American Operating Division is one of four operating divisions of Schneider Electric, headquartered in Paris, France, and markets the Square D®, Telemecanique® and Merlin Gerin® brand products to customers in the United States, Canada and Mexico. In the United States, Schneider Electric is best known by its flagship Square D brand, with Telemecanique becoming increasingly known in the industrial control and automation markets and supported by many Square D distributors. For more than 100 years, Square D has been a market-leading brand of electrical distribution and industrial control products, systems and services. Schneider Electric is a global electrical industry leader with 2006 sales of approximately $17.2 billion (U.S.). Visit Schneider Electric on the Internet at:

Corporate - www.us.schneider-electric.com
Telemecanique Products - www.us.telemecanique.com
Square D Products - us.squared.com
Merlin Gerin Products - us.merlingerin.com

More from Material Processing