Mini Shock/Vibration Logger takes 1,000 measurements/sec.
Press Release Summary: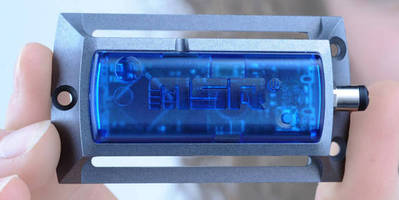 Model MSR165 triaxial digital accelerometer mini datalogger allows for simultaneous temperature, humidity, pressure, light, and analog input voltage recording. It can store over 2 million measurement parameters and continuously record for 32 msec before main shock event. At 39 x 23 x 72 mm and 69 g, it operates on 150 mA at 13-bit resolution, and has rechargeable 900 mAh lithium-polymer battery. Memory can be expanded with microSD card and data transferred to PC via USB interface.
---
Original Press Release:

Saelig Debuts Thumb Drive-Sized, Low-Power Triaxial Shock and Vibration Logger



Measures 1,000 Temperature, Humidity, Pressure & Illumination Parameters per Second

Pittsford, NY, USA - Saelig Company, Inc. (Saelig) (www.saelig.com) has announced the availability of Model MSR165, a high resolution triaxial digital accelerometer mini-datalogger, capable of taking 1,000 acceleration (shock/vibration) measurements per second across all three axes, a feature highly unique for its size.

Model MSR165 allows for simultaneous, temperature, humidity, pressure, light and analog input voltage recording, as well as storage of more than two million measurement parameters, sufficient for recording than 10,000 shocks of up to +15 g. In addition, Model MSR165 is able to continuously record for 32 milliseconds before a main shock event. As a result, the user is able to determine that a sharp shock has occurred, and to investigate the exact time-history of the shock event itself.

The thumb-sized datalogger has extremely low power requirements, due to its integral high-performance triaxial digital accelerometer (150 microamperes, 13-bit resolution). In addition, a rechargeable 900mAh lithium-polymer battery allows the logger to record shock measurements over a period of up to six months. Memory capacity can also be significantly increased, via use of a microSD card, a particularly useful feature for recording vibration measurements. All saved measurements can be quickly and easily transferred to a PC via the USB interface for further analysis.

Model MSR165 is ideal for a wide range of applications, due to its small size (39 x 23 x 72 mm, approximately 69 g), five different measurement variables, and long-term measurement capability. The logger is housed in a rugged, waterproof anodized aluminum case, for use in a variety of environments. Dataloggers ensure that all manufacturing stages are fully documented and tracked. The unique features of Model MSR165 also make it unique for vibration measurements in servo-axles or oscillations at a tool carousel, when testing for defects, wear, or overloading. It is also ideal for use in applications involving the transportation of very expensive machinery, as Model MSR165 can make numerous shock, temperature, humidity and pressure measurements during the journey. Damage can be identified at an early stage, and events and liability can be objectively evaluated. Integral light sensors allow the user to ensure that packaging was not opened during the journey.

Made in Switzerland by MSR Electronics GmbH, MSR165 loggers are available in North America exclusively from Saelig, with units starting at $500. For detailed specifications, free technical assistance, or additional information, please contact 1-888-7SAELIG, via email: info@saelig.com, or visit www.saelig.com.

About Saelig Company, Inc.

Founded in 1988 in Rochester, New York, Saelig is a North American distributor with a growing reputation for finding and sourcing unique, easy-to-use control and instrumentation products and related active components, for use in a variety of industries, including: automation, automotive, aerospace & defense, computers, controls, embedded systems, medical & pharmaceutical manufacturing, motion control, R&D, wireless, etc. Products lines are continuously added from sources across the globe, and are offered at highly competitive prices, accompanied by full in-house technical support, exceptional customer service, and fast delivery. For full details of available product lines, please visit www.saelig.com.

More from Optics & Photonics