Mini Salt Bath weighs only 50 lb once fully loaded.
Press Release Summary: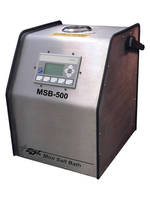 With fluid immersion depth of over 9 in., MSB-500 is suited for benchtop comparison calibrations of SPRTs and thermocouples from 180-500°C. It achieves 10 mK stabilities and uniformity using less than 14 lb of salt, and features built in RS-232 communication, and touch screen interface pre-programmed with standard calibration points for simple one-touch settings. Safety features include independent low and high cutout and stainless steel grating to protect dual stirring blades.
---
Original Press Release:

MSB-500 Mini Salt Bath



EDL announces the release of the innovative MSB-500 Mini Salt Bath, which provides an affordable, safe, and effective alternative to the traditional larger floor style baths. Remarkable 10 mK stabilities and uniformity is achieved using less than 14 lbs of salt! A fluid immersion depth of over 9" makes this unit suitable for comparison calibrations of SPRTs and thermocouples from 180 °C to 500 °C - all on the bench top. The unit, fully loaded, weighs in at only 50 lbs. EDL's Mini Salt Bath is completely user friendly; with an intuitive touch screen, easy bath control is guaranteed.

Start up from a solid takes less than 2 hours - accomplished without any special procedures or additional heaters. An optional equalization block further enhances the stability of this unit making it the obvious choice for the majority of calibrations above 190 °C. As with all EDL product accessories, the equalization block is easy to use - it drops effortlessly into the neck and it is fully self-aligning. The Mini Baths feature an independent low and high cutout, so they can be used with absolute confidence. These independent lockout circuits are based on a proprietary EDL microprocessor circuit, which ensures the safety of these baths. This independent safety feature is not offered on competitor's baths, this design was put in place because of the high temperature of the bath and the safety issues such high temperatures present. Additional safety features were built into the baths design such as the stirring motor being protected with an additional independent lock out so it is prevented from engaging before the salt has reached its melting point. The stirring system on the MSB-500 is designed to produce a turbulent flow without cavitation. A heavy stainless steel grating protects the dual stirring blades.

The easy to use touch screen interface is pre-programmed with most standard calibration points for simple one-touch settings. All pertinent information regarding the operation of the bath is easily viewed from the touch screen interface, making the bath even more user friendly and easy to control. In addition, the built in RS-232 communication allows you to control and adjust the bath from your computer. The exterior surface of the MSB-500 is stainless steel, so clean up is fast and easy. EDL's Mini Salt Baths come standard with two mounting bars on the top of the bath - designed specifically so that setting up a handy sensor holding system is simple. In addition, these units were designed with a bail handle that is fully adjustable; making it easy to transport and carry. This feature also allows for easy removal when it is time for measurements.

About EDL Inc.:

EDL takes pride in delivering temperature solutions to customer specific applications. Experienced technical staff and engineering teams provide custom solutions for the most unique temperature situation and their extensive production and engineering facility allows such development in-house for proper testing, evaluation, and fast delivery - call, check out our website, or email us for further information. EDL's standard products, metrology line, and compression fittings may be viewed online at: www.edl-inc.com.

Electronic Development Labs, Inc.

244 Oakland Drive

Danville, VA 24540

USA

P: 434.799.0807

F: 434.799.0847

1.800.342.5335

www.edl-inc.com

email: sales@edl-inc.com

Contact: Kristen Herndon, Marketing

E-mail: kristenh@edl-inc.com

Sales: sales@edl-inc.com