Mini RFID Readers/Writers offer range up to 3.0 cm.
Press Release Summary: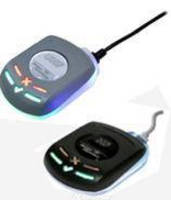 Available in UHF and HF frequencies, desktop Models GAO223015 and GAO216008 connect to any standard USB port for data transmission and power supply. Plug-and-play units are supplied with 1.5 m USB cable, demo software, and sample tags. Built-in LED indicators verify status of RFID transponder within read range. Encased in plastic, devices are used in verification and programming of RFID tags and labels, personnel identification, and access control to computers or terminals.
---
Original Press Release:

USB Enabled HF and UHF Mini RFID Readers/Writers Announced by GAO



Toronto, Canada - GAO RFID Inc. (www.GAORFID.com) is releasing its small, yet full featured mouse-sized RFID readers/writers (GAO223015 and GAO216008) which are designed for the desk-top and are available in both UHF and HF RFID frequencies. These HF and UHF RFID readers/writers are commonly used in the verification and programming of RFID tags and labels, personnel identification and access control to computers or terminals, point of sales (POS) applications or use with similar data entry instruments, and many other applications for supply chains, retail or logistics.

The easy-to-use, plug and play RFID HF reader and UHF reader are encased in a plastic and connect to any standard USB port for data transmission and for power supply. These units are shipped with a 1.5m USB cable, demo software and sample tags that enables quick and easy system set-up. The built-in, simple LED indicators immediately verify the status of the RFID transponder within its read range.

GAO's USB Enabled HF Mini RFID Reader/Writer and UHF Mini RFID Reader/Writer provide the following features:

o Compact, light weight and portable for convenient use

o Easy to operate

o "Plug and Play"

o USB connectivity for data transfer and power

o Providing read/write ranges of up to 3.0cm (transponder dependent)

For more information on the USB Enabled HF Mini RFID Reader/Writer and UHF Mini RFID Reader/Writer, please visit www.GAORFID.com or contact Sales@GAORFID.com

About GAO RFID Inc.

GAO RFID Inc. is a leading provider of Radio Frequency Identification (RFID) hardware and solutions to end users worldwide. GAO RFID combines best of breed with low cost RFID readers, RFID tags and enabling-RFID software. GAO offers a wide variety of RFID readers, tags and antennas in all the RFID technologies, Low Frequency (LF), High Frequency (HF), Ultra High Frequency (UHF, Gen 2) as well as Active and Semi-Passive. GAO RFID's products and services are easily customized for use in asset tracking, healthcare, supply chain & logistics, event management, access control, livestock tracking, inventory control & management, field service maintenance and document authentication.

For more information please visit www.GAORFID.com

For any media queries: Director of Marketing, 416-292-0038 ext 228
marketing@GAORFID.com

More from Adhesives & Sealants