Mini PDF In-Transit Logger targets Life Science applications.
Press Release Summary: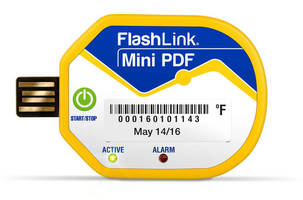 Configured for tracking temperature-sensitive pharmaceuticals, Life Science FlashLink Mini PDF In-Transit Loggers include models with preset low/high alarm limits of 2°C/8°C and 15°C/25°C. These single-use temperature recorders, which monitor conditions during transport, storage, and handling, have built-in USB connector and onboard software that facilitates data download to PC, Mac, tablet, or printer. PDF files can be emailed to appropriate parties.
---
Original Press Release:

DeltaTrak Releases New Life Science Models of the FlashLink Mini PDF In-Transit Logger



Ideal for shipping vaccines and clinical trial drugs



Pleasanton, Calif.-- DeltaTrak® announces the release of its new Life Science FlashLink Mini PDF In-Transit Loggers, configured specifically for tracking shipments of vaccines, biologics, insulin and other temperature sensitive pharmaceuticals. Two models are available with preset low/high alarm limits of 2°C/8°C and 15°C/25°C, to accommodate refrigerated and ambient environments. These single-use temperature recorders provide accurate, reliable monitoring of conditions during transport, storage and handling.



"The built-in USB connector and on-board software make the PDF Mini ideal for shipping vaccines and clinical trial drugs, especially to remote locations," according to Frederick Wu, President and CEO of DeltaTrak. "It's convenient for global distribution because receivers don't need special reading devices or software to access the trip reports."  Data is downloaded to a PC, Mac, a tablet or printer, so immediate accept/reject decisions are possible upon arrival. The PDF files can be emailed to shippers, third party logistics companies, and to clinical trial program managers.



Each logger comes mounted on a bright green shipping card, making it easy to locate when a shipment arrives. The small and compact size allows for the option to insert the unit directly into a package for tracking temperature close to the product.  For complete traceability, a peel-away barcode label with the logger serial number can be attached to shipping documents, scanned into an ERP system, and associated with product lot codes.



The FlashLink Mini PDF In-Transit Loggers provide verification and documentation that shipments have been kept within proper temperature range to comply with drug manufacturer's specifications, FDA, CDC, and global regulations. They ensure pharmaceuticals are delivered with maximum efficacy and shelf life to support successful treatment programs and, ultimately, patient safety.



About DeltaTrak®

DeltaTrak®is a leading innovator of cold chain management, environmental monitoring and food safety solutions for the pharmaceutical, life science, produce, food, and chemical industries. Contact DeltaTrak® by phone at 1-800-962-6776 or by email at marketing@deltatrak.com. Additional information can be found at www.deltatrak.com.



For more information, contact Michelle Alvino at malvino@deltatrak.com.

marketing@deltatrak.com 1-800-962-6776   www.deltatrak.com

More from Electronic Components & Devices