Vision and Imaging Sensors / Detectors
Mini Light Curtain Sensor detects small, fast moving parts.
Press Release Summary: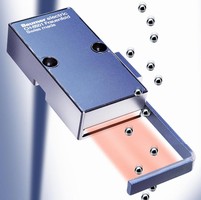 Digital optical line sensor, ParCon ZADM 034P, projects continuous 24 mm wide parallel beam to reflector, permitting detection of moving parts as small as 0.5 mm. Able to detect and count metallic and non-metallic objects at processing rates in excess of 0.25 ms, mini light curtain sensor has minimum output pulse length of 10 ms and max scanning rate of 4 kHz. Users can program minimum object size using pushbutton teach-in process.
---
Original Press Release:
ParCon Mini Light Curtain Sensor Detects Small, Fast Moving Parts
Southington, Conn. -- June 13, 2006.... Baumer Electric has introduced the ParCon ZADM 034P, a digital optical line sensor that projects a continuous 24 mm wide parallel beam to a reflector, permitting extremely fast and reliable detection of moving parts down to 0.5 mm. The mini light curtain sensor accurately detects and counts both metallic and non-metallic objects at high speed processing rates in excess of 0.25ms. In packaging applications, the ParCon digital mini light curtain sensor is ideal for counting tablets, screws, pellets, pills, plastic parts, seeds, and other small objects, including those in blister packaging, and for detecting objects in a feeder. For metalworking, plastics processing, and other industrial applications, the sensor can be used to detect and count punched parts thrown off of processing equipment or drill holes/punch holes in paper, fabric or metal substrates. The 24 mm parallel light beam allows the sensor to accurately detect and measure thick or thin objects regardless of their location within the sensing field. Sized at just 67 x 34 x 16.6 mm, the ParCon is designed to mount quickly and easily into small space applications with no additional bracket required for the vertically or horizontally positioned reflector bar The sensor's minimum output pulse length is just 10 ms and the maximum scanning rate is 4 kHz. Users can program the minimum object size using the sensor's simple push button teach-in process. For more information on ParCon ZADM034P Mini Light Curtain Sensor , contact Baumer Electric at (800) 937-9336, baumerelectric.com/usa, or via e-mail at sales.us@baumerelectric.com. Baumer is a global leader in the design, manufacture and marketing of high quality, precision sensors since 1952 serving a variety of markets including Automation, Graphics, Robotics/Material Handling, Medical, Machine Tool and Specialty Machines.
Related