Mini-ITX SBC utilizes 14 nm 6th gen Intel Core processors.
Press Release Summary: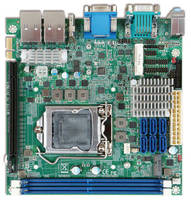 In addition to Intel® Q170 chipset and 6th generation Intel® Core™ processors in LGA1151 socket, WADE-8017 features USB 3.0, USB 2.0, COM, Mini PCIe (supporting mSATA), and M.2 type E interfaces. Processors support 2-channel DDR4 DIMMs (32 GB max) and PCIe 3.0, and SBC also supports SATA 6 Gb/s (SATA III) storage specification. Connectors allow RAID 0/1/5/10 modes, and support for up to 3 independent displays, including VGA, HDMI, and DisplayPort, is standard.
---
Original Press Release:

Portwell Announces Mini-ITX Form Factor WADE-8017 Utilizing the 6th Generation Intel Core Processors



FREMONT, CALIF. – American Portwell Technology, Inc., (http://www.portwell.com) a wholly owned subsidiary of Portwell, Inc., a world-leading innovator in the Industrial PC (IPC) market and a Premier member of the Intel® Internet of Things (IoT) Solutions Alliance, announces today the Portwell WADE-8017, which adopts the Mini-ITX form factor and utilizes 6th generation Intel® Core™ processors. The new WADE-8017 is designed to provide high performance and flexibility for functional expansion, and is ideal for applications in gaming, kiosk, digital signage, medical/healthcare, defense and industrial automation and control.



The 6th generation Intel Core processors are manufactured on Intel's leading 14nm manufacturing process technology and deliver enhanced performance at the lowest power levels ever. Portwell is using these performance enhancements and other processor features to create a series of products that provide smart security, cost-saving management, and intelligent performance for industrial platforms. Portwell's WADE-8017 uses the Intel® Q170 chipset and the 6th generation Intel Core processors in a LGA1151 socket. The processors support two-channel DDR4 DIMMs and PCI Express (PCIe) 3.0 to provide fast memory and I/O performance.



The Intel Q170 chipset continues to work on the edge of innovation with a new architecture to deliver quality, performance and industry-leading I/O technologies such as PCI Express (PCIe) 3.0 on platforms powered by the 6th generation Intel Core processor family. WADE-8017 is the first Portwell off-the-shelf product utilizing the Intel Q170 Express chipset in a Mini-ITX form factor, and is a good solution for customers to integrate into their industrial embedded systems.



Portwell's WADE-8017 offers advanced features, including support for the SATA 6Gb/s (SATA III) storage specification. It also provides connectors to allow RAID 0/1/5 and 10 modes, and the latest PCIe 3.0 (one PCI Express x16 slot) to enhance speed and bandwidth performance. USB interfaces include the latest USB 3.0 high speed transmission technology which supports 6 USB ports (four USB 3.0 ports on rear IO and two USB 2.0 pin headers on board), as well as two long-DIMM memory slots for DDR4 SDRAM up to 32GB, and ports supporting up to three independent displays, including VGA, HDMI and DisplayPort.



The WADE-8017 Mini-ITX embedded board is equipped with many other industry-oriented interfaces, such as six COM ports, one Mini PCIe (supporting mSATA function) and one M.2 type E slot. The implementation of numerous COM ports enables WADE-8017 to provide multiple controls for legacy systems that are in use in power plants, for example. In addition, customers can choose flexible functions based on Mini PCIe to support storage functions. Mini PCIe and M.2 also provide advanced extensions based on technologies utilized for IoT applications. Once again, Portwell demonstrates its expertise and experience in the IPC field through the development of the WADE-8017 and its implementation of all the industry related requirements.



Product details:

WADE-8017 Mini-ITX Embedded System Board: http://www.portwell.com/products/detail.php?CUSTCHAR1=WADE-8017.



Product availability: In addition to American Portwell Technology, Inc., the Portwell WADE-8017 Mini-ITX embedded system board is also available through Arrow Electronics, Inc. and Avnet, Inc.



About American Portwell Technology

American Portwell Technology, Inc. is a world-leading innovator in the embedded computing market and a Premier member of the Intel® IoT Solutions Alliance. American Portwell Technology designs, manufactures and markets a complete range of PICMG computer boards, embedded computer boards and systems, rackmount systems and network communication appliances for both OEMs and ODMs. American Portwell is an ISO 9001:2008, ISO 13485:2003, ISO 14001:2004 and TL 9000 certified company. The company is located in Fremont, California. For more information about American Portwell's extensive turnkey solutions and private-label branding service, call 1-877-APT-8899, email info@portwell.com or visit us at http://www.portwell.com.



Intel and Core are trademarks of Intel Corporation in the United States and other countries. All other products and company names referred to herein may be trademarks or registered trademarks of their respective companies or mark holders.



Media Contact:

Susan Wei

Marketing Executive

American Portwell Technology, Inc.

510-403-3354

susanw@portwell.com



Product Contact:

Jason Chen

Product Marketing Manager

American Portwell Technology, Inc.

510-403-3362

jasonc@portwell.com

Related