Mini-ITX SBC offers choice of three 2nd Gen AMD SoC processors.
Press Release Summary: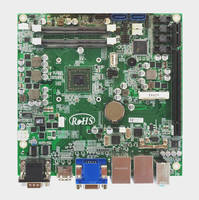 Able to be powered by onboard AMD® G-series quad- or dual-core SoCs integrated with GPUs based on AMD's Graphics Core Next technology, MB-73360 offers up to 8 GB DDR3 and operates from 8–32 Vdc input. Connectivity is covered by 2x Intel® GbE LAN, 6 COM , 9 USB, and 2 SATA ports, while display interfaces include 2 HDMI (4k resolution) and VGA. Other I/O options include HD audio and expansion interfaces: mini-PCIe socket, PCIe X16 slot, and PCIe slot.
---
Original Press Release:

WIN Announces Mini-ITX SBC with 2nd Generation AMD® SoC (Codename Steppe Eagle)



NORTH ANDOVER, MA – WIN Enterprises, Inc., a leading designer and manufacturer of embedded controllers and network platforms for OEMs, announces the MB-73360, a mini-ITX motherboard that offers OEM customers a choice of 3 different AMD® 2nd Generation System-on-Chip (SoC) processors. The CPUs are integrated with graphic processing units (GPU's) based on AMD's Graphics Core Next technology to provide superior graphics.



Features



Onboard AMD® G-series Quad-core / Dual-core SoC's

2x HDMI support 4k resolution , 1x VGA

DDR3 up to 8 GB , 2x Intel® GbE LAN ports

6x COM , 9x USB , HD audio , 2x SATA

Mini-PCIe socket, PCIe X16 slot, 1X PCIe slot

Full range DC 8V ~ 32V Input



Expansion interfaces include 1x X16 PCIe, a 1x X1 PCIe slot, and 1x Mini-PCIe socket.  The device can support a wide range of applications from gaming, factory floor control and automation, kiosk, POS/retail, medical, security, and more.



The AMD G-Series processors are designed to provide up to 60 percent better compute performance than the previous generation of the same AMD series. Configurable thermal design power is a feature that can limit power to just 5W at the processor level. This helps protect the CPU from failure through over-heating and ensures longer overall product life.



MB-73360 models with AMD 2nd Generation CPUs



MB-7336A



Mini-ITX with AMD GE424 SOC, DDR3 1866 up to 8GB, HDMI, VGA

2 GLAN, 6 x COM, 2 x SATA, Mini-PCIe, PCIe X16, DC 8V ~ 32V input

MB-7336B



Mini-ITX with AMD GE412 SOC, DDR3 1333 up to 8GB, HDMI, VGA

2 GLAN, 6 x COM, 2 x SATA, Mini-PCIe, PCIe X16, DC 8V ~ 32V input

MB-7336C



Mini-ITX with AMD GE212 SOC, DDR3 1333 up to 8GB, HDMI, VGA

2 GLAN, 6 x COM, 2 x SATA, Mini-PCIe, PCIe X16, DC 8V ~ 32V input



WIN can modify this board to the OEM's more specific needs when it's ordered in standard OEM quantities.



About WIN Enterprises, Inc.



WIN Enterprises is an ISO 9001 certified product development company that designs and manufactures customized x86-based embedded systems and motherboards. Founded in 1991, WIN Enterprises develops reference designs for the leading microprocessor companies, as well as customized set-top boxes, rack-mounted appliances, and other electronic products for OEM customers.



WIN Enterprises is an Affiliate Member of the Intel® Intelligent Systems Alliance, a global ecosystem of 200+ member companies that provide the performance, connectivity, manageability, and security developers need to create smart, connected systems.



With facilities in the United States, Taiwan, and China, WIN Enterprises enables cost-effective design, manufacturing, and fulfillment services for corporations around the world. For more information contact WIN Enterprises at +1 (978) 688-2000 or email sales@win-ent.com.



Press contact

John Hill, Director of Marketing

johnh@win-ent.com

978-688-2000 x14

Related