Mini-ITX Motherboards support multiple full HD displays.
Press Release Summary: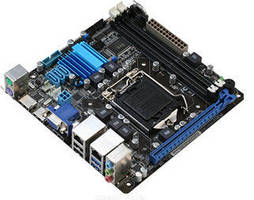 Supporting Intel® Core™ i7/i5/i3 processors, EMB-B75A/B industrial motherboards serve multi-display digital signage applications where HD graphics images and video are essential. While EMB-B75B offers dual-channel LVDS support at 18-/24-bit, 2 HDMI, and one VGA input, EMB-B75A is configured with 3 HDMI inputs and one VGA port that support full 1080P graphics. Also, EMB-B75A provides dual Gigabit Ethernet ports, SATA 6.0 Gbps port, 2 SATA 3.0 Gbps, 4 USB 3.0, and 4 USB 2.0 ports.
---
Original Press Release:

AAEON Unveils the EMB-B75A and EMB-B75B Mini-ITX Industrial Motherboards with 3rd Generation Intel® Core(TM) i7 Processor and B75 Chipset for Multiple Full HD Display Support



Taipei, Taiwan — AAEON, a leading industrial computing manufacturer, today announced the EMB-B75A / B Mini-ITX industrial motherboards based on the 3rd generation Intel® Core™ i7 processor: These powerful motherboards deliver cutting-edge performance and flexibility for functional expansion and can be utilized in multi-display digital signage applications, such as in movie theatres, retail stores, indoor recreation facilities and infotainment stations, where vivid, High-Definition graphics images and video are essential.



The EMB-B75B offers Dual-Channel LVDS support at 18/24-bit, two HDMI and one VGA input, while the EMB-B75A is configured with three HDMI inputs along and a VGA port with both supporting full 1080P graphics.  The EMB-B75A provides dual Gigabit Ethernet ports, a SATA 6.0Gb/s port and two SATA 3.0Gb/s plus four USB 3.0 and four USB 2.0 ports for robust expansion and connectivity options. USB 3.0 provides upgraded bandwidth from 480Mbps to 5Gbps, thus greatly reducing data transfer times. 



These reliable and cost efficient motherboards come in the Mini-ITX form factor and onboard industry leading Intel® Core™ i7/i5/i3 processor while the Intel® B75 chipset offers support for up to 16GB of DDR3 1600 memory.  Both motherboards also offer scalability with their support of both the 2nd and 3rd generation line of Intel® Core™ i-series processors.  In addition, the EMB-B75A/ B both offer two COM ports, and an 8-bit Digital I/O.  Both offer WOL and programmable watchdog timers, with the EMB-B75A offering an additional onboard TPM Infineon SLB9635 TT1.2 security chipset.  The optional use of Intel® Rapid Storage Technology delivers fast system boot time and load time for frequently used applications. Combine these features with the longevity of the EMB-B75A/ B motherboards and their durable wide operating temperatures of 32°F ~140°F (0°C ~60°C) and it is easy to see how system integrators can obtain excellent value and performance from either of these two boards.



Whenever Microsoft® Windows® platform is used, customers can easily create their own user interface without additional coding simply by downloading AAEON's Hi-Safe program.  EMB-B75A/ B support all common operating systems such as Windows® XP, Windows® 7 and Linux Fedora.  For more product and service information, please contact one of AAEON's regional sales representatives or visit www.aaeon.com.



About Hi-Safe

Hi-Safe is an AAEON-developed program geared towards SDKs for UIs with Microsoft® Windows® platforms.  The AAEON Hi-Safe program provides an easy way to develop the customer's software, including watchdog, system monitoring, Super I/O, fan, temperature and voltage data, DIO information, SMBus address detection, Backlight controller and UPS data. Since it is based on the user interface SDK, there are no additional coding efforts required. By downloading this free coding, customers are able to create their own user interfaces effortlessly.



About Hi-Manager

The AAEON Hi-Manager is a tool based on the Intel® Active Management Technology 8.0 (iAMT 8.0) and has backward compatibility with earlier versions of iAMT. This allows users to locate all iAMT devices within the intranet, power On/Off target devices remotely, set power On/Off scheduling, arrange device groupings for better management, offer event logs and timer settings to wake up devices at specified times, recover systems that have crashed from virtual CD-ROM, remote KVM management and access to target device hardware information for asset management. Hi-Manager can be installed on all AAEON platforms and can remotely manage AAEON client devices that use Intel® B75, Q77, QM77 chipsets and run Microsoft® Windows® XP, Window® 7 Operating Systems.



About AAEON

AAEON Technology, Inc is a leading manufacturer of advanced industrial and embedded computing platforms. Committed to innovative engineering, AAEON provides integrated solutions, hardware and services for premier OEM/ODMs and system integrators worldwide. Reliable and high quality computing platforms include industrial motherboards and systems, industrial displays, rugged tablets, PC/104, PICMG and COM modules, embedded SBCs, embedded controllers and related accessories. AAEON also offers customized end-to-end services from initial product conceptualization and product development on through to volume manufacturing and after-sales service programs. AAEON is an Associate member of the Intel® Intelligent Systems Alliance.



Intel® and Intel® Atom™ are registered trademarks of Intel® Corporation in the United States and other countries.



Press Contact

AAEON Technology Inc.

Ashley Liu

TEL: +886-2-8919-1234 # 1110

Email: Ashley1Liu@aaeon.com.tw

www.aaeon.com

Related