Mini-ITX Board supports gaming and industrial automation.
Press Release Summary: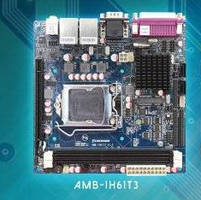 Based on Intel Core i7/i5/i3 CPU and Intel® H61 chipset, Model AMB-IH61T3 supports up to 10 COM ports, including 1 x RS232, 1 x RS2323/485, and 8 x RS232 pin headers. Board provides two DIMM slots that support DDR3 1333/1066 SDRAM up to 16 GB. Other features include 2 x VGA, 2 x GbE, 8 x USB 2.0, 1 x PCI-E x16, and 1 x Mini PCIe ports. In addition to gaming applications, AMB-IH61T3 is suited for sensors, PLCs, servos, inverters, temperature controllers, and barcode scanners.
---
Original Press Release:

Acrosser's AMB-IH61T3 Mini-ITX Board is Now Available for Both the Gaming and Industrial Automation Industries



When two separate devices need to communicate with each other on a single board computer, there should be a channel to bridge the communication: the COM port. Acrosser's AMB-IH61T3 is a board that supports up to 10 COM ports for multiple applications



AMB-IH61T3 and Gaming Solutions

AMB-IH61T3, the Mini-ITX form-factor single board computer, has many characteristics that those in the gaming industry long for.  These characteristics include superior computing performance, numerous expansions, and a long life cycle. The board also features unrivaled connectivity with its remarkable 10 COM ports (1 x RS232, 1 x RS2323/485, and 8 x RS232 pin headers). For gaming machines or arcade vendors, multiple gaming peripherals, such as buttons, lamps, hoppers, or a coin acceptor, can all be integrated into the final gaming product, adding more depth and interactivity to the game. The combination of I/O, 10 COM ports, and dual display makes AMB-IH61T3 a suitable option for the gaming industry.



AMB-IH61T3 and Industrial Automation

In the automation industry, interconnection of multiple industrial measurement devices is a necessity. These devices include sensors, PLCs, servos, inverters, temperature controllers, barcode scanners, air quality monitors, etc. With proper design and verification, the 10-serial-port AMB-IH61T3 can easily integrate these devices and provide the perfect control center solution for industrial environments.



To learn more about the AMB-IH61T3 Mini-ITX board, please send us an inquiry , or contact your local Acrosser sales vendor for detailed information.



Product Information:

http://www.acrosser.com./Products/Single-Board-Computer/Mini-ITX-&-others/AMB-IH61T3-(Mini-ITX)-/Intel-H61-AMB-IH61T3-(Mini-ITX)-.html



The AMB-IH61T3 Product Film:

http://www.youtube.com/watch?v=xZggBHFrjD8



Contact Us:

http://www.acrosser.com/inquiry.html



Jill Chen

MARCOM



Acrosser Technology Co., Ltd.

http://www.acrosser.com/



More from Computer Hardware & Peripherals