Mini Hydraulic Excavators dig deep, but don't swing wide.
Press Release Summary: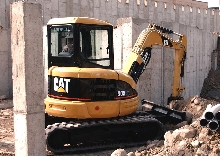 Models 303CR and 305CR weigh 7,400 and 11,000 lb, respectively, dig holes with zero tail swing, and have swing boom that enables operator to position machine to work next to wall or obstruction. When equipped with long sticks, 303CR has digging depth of 10 ft 11 in. and 305CR digs to 12 ft 11 in. Work tools available include digging buckets, ditch cleaning buckets, augers, and hydraulic hammers. Optional mechanical quick coupler makes work tool changes easy.
---
Original Press Release:

New Caterpillar 303CR and 305CR Mini Hydraulic Excavators Offer High Performance and Ability to Work in Tight Spaces


Caterpillar introduces two new Compact Radius mini hydraulic excavators, the 303CR and 305CR. These machines deliver large working ranges, exceptional versatility, ease of operation and serviceability in zero tail swing packages. Both new models feature a swing boom that enables the operator to position the machine to dig and work next to a wall or obstruction.

With a cab, the 303CR weighs up to 7,400 pounds (3360 kg) and produces 26 net horsepower (19.1 kW) and the 305CR with a cab weighs up to 11,000 pounds (4990 kg) and produces 42 net horsepower (31.3 kW). Both standard and long sticks are available for each machine. When equipped with long sticks, the 303CR has a digging depth of 10 feet 11 inches (3.33 m) and the 305CR has a digging depth of 12 feet 11 inches (3.93 m). For expanded versatility, the boom swing angle to the left is up to 90 degrees and the boom swing angle to the right is 50 degrees. Tail swing radius for the 303CR is a mere 2 feet 7 inches (0.775 m), while the tail swing radius for the 305CR is 3 feet 3 inches (0.99 m). Both machines swing radius lie within the undercarriage width (zero tailswing).

The mini excavators are designed to handle a wide range of tasks, and a variety of Caterpillar work tools are available to tailor the machines for efficient performance. Common applications include building construction, general construction, demolition, utilities and landscaping. Digging buckets, ditch cleaning buckets, augers, hydraulic hammers adapt the machine to the job. An optional mechanical quick coupler makes work tool changes quick and easy. An auxiliary hydraulic valve is standard and allows easy field installation of hydraulic work tools.

High performance hydraulics and engines Advanced, variable-flow hydraulics provide balanced power and speed with high bucket digging forces of up to 9,430 lbs on the 305CR. This translates into high digging performance for the toughest ground conditions. The machine features an 11 -section control valve, a fixed displacement pump, and two variable displacement pumps for smooth, responsive, low-effort control through pilot hydraulics, minimizing operator fatigue.

The two-speed hydrostatic transmission provides excellent travel speeds between work areas, with 2.9 mph (4.7 kph) at high speed and 1.6 mph (2.6 kph) at low speed. Each track is driven by an independent two-speed motor which provides high tractive effort for ease of steering, even in difficult ground conditions. The system incorporates a straight-line travel function that assists control when tracking and using the front linkage or swing circuit simultaneously.

Each mini excavator has a blade float function to enhance performance when backdragging or working on finished surfaces. The blade is sized to the full track width.

The 303CR is powered by a naturally aspirated, three-cylinder diesel engine and the 305CR a naturally aspirated four-cylinder diesel engine. Both engines are field proven with highly efficient power outputs, reducing fuel consumption and smoke output meeting all current emissions requirements.

Spacious, ergonomically designed, operator station The operator station is spacious by design combining the comfort and dimensions of a larger excavator. The optional cab features a sliding door for ease entry/exit and a fully adjustable suspension seat with reclining backrest for day-long comfort and high productivity. The compact upper structure provides superior visibility to the machine's rear and side, and a large easy-opening windscreen gives a clear view of the work area. Good cab ventilation is also featured with two opening windows, heater and windscreen defrosting. Both the cab and canopy are low in height to allow the machine to enter areas with restricted clearance.

The console-mounted implement controls and armrests move fore and aft with the seat to accommodate the operator. The console can be rotated to isolate the controls and to create more space for entering or leaving the operator station. The low-effort pilot hydraulic controls and suspension seat reduce operator fatigue and enhance productivity.

Ease of service The wide tilt-up engine enclosure gives access to all major engine components, service points, and sight gauges for hydraulic oil and fuel. A hydraulic oil sampling port is positioned for easy access. The front linkage and dozer blade have low-maintenance pivot joints for longer service intervals-50 hours for the bucket, linkage and swing bearings, 500 hours for other pivots. All grease fittings are easy to reach.

The 303CR and 305CR are designed for high performance and ease of operation in tight working spaces while minimizing owning and operating costs. For more information, customers should contact their local Caterpillar dealer or visit the Cat® web site at www.cat.com.

Basic Specifications for 303CR and 305CR Mini Hydraulic Excavators

303CR 305CR
Operating weight with cab and extra counterweight*
7,4001b (3360 kg) 11,0001b (4990 kg)

Engine
3-cylinder diesel 4-cylinder diesel

Engine power (net)
26 hp (19.1 kW) 42 hp (31.3 kW)

Tail swing radius
2 ft 7 inches (0.775m) 3 ft 3 inches (0.99 m)

Machine width
5 ft 1 inch (1.55 m) 6 ft 6 inches (1.98 m)

Maximum travel speed
2.9 mph (4.6 kph) 2.9 mph (4.7 kph)

Bucket digging force
5,880 lb (2670 kgf) 9,430 lb (4285 kgf)

Stick digging force
3,820 lb (1735 kgf) 6,200 lb ( 2815 kgf)

Max. digging depth**
10 ft 11 inches (3.33 m) 12 ft 11 inches (3.93 m)

* Extra counterweight increases tailswing by up to 4 inches (100mm)

**Equipped with long stick.