Mini Feeders offer hopper capacities to 1 cubic foot.
Press Release Summary: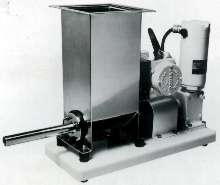 Suited for dry material, Mini Feeders are offered with screws sizes to 1½ in. and hoppers to 1 ft³ to accommodate materials requiring more retention and conditioning time for proper control. Products offer feed rates of up to 8.8 ft³/hr and feature modular design, which allows flexibility to upgrade feeder to adapt to change in materials or material characteristics.
---
Original Press Release:

Mini Feeder Line Screw Size and Hopper Capacities Expanded To Handle Higher Feed Rates


Vibra Screw, Inc., a leading manufacturer of equipment and systems for precision processing of dry bulk materials, has announced expansion of screw and hopper sizes in their highly successful line of Mini Feeders for dry material feeding.

The new size ranges (screws are now available up to 1½" maximum and hoppers up to 1 cu. ft.) are designed to accommodate materials that require more retention and conditioning time to ensure proper control and accuracy. The larger sizes also allow higher feed rates of up to 8.8 cu. ft. per hour with substantially reduced equipment weight - important in loss-in-weight applications where reduced weight allows use of smaller, more accurate scale components for precise continuous and batch feeding.

Vibra Screw's Mini Feeder line also features a modular design that allows the user to select the most economical design to meet specific material feed rates while retaining the flexibility to upgrade the feeder at any time to adapt to a change in materials or material characteristics.

Vibra Screw introduced the concept of controlled vibration to condition and drive bulk materials into and through a process more than 40 years ago. Today they manufacture the broadest line of equipment incorporating this feature including bin activators, bulk bag unloaders, volumetric screw and belt feeders, and all types of gravimetric feeds, blenders and controls.

For more information, call 973-256-7410, FAX: 973-256-7567, e-mail info@vibrascrewinc.com, visit our web site at www.vibrascrewinc.com or write Vibra Screw, Inc., 755 Union Boulevard, PO Box 229, Totowa, NJ 07511.