Mini-Environment Workstation provides chemical containment.
Press Release Summary: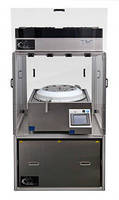 Featuring stand-alone design, Cee® X-PRO Workstation enables complete process integration for pilot-scale production and commercial R/D prototyping. Upper enclosures can be designed for ductless or ducted exhaust to prevent vapor fumes from contaminating ambient lab environment. Offering virtual clean room environment, workstation provides precision-controlled laboratory conditions that are critical for research within microelectronics, biomedical, and pharmaceutical industries.
---
Original Press Release:

Brewer Science Introduces the New Cee® X-PRO Workstation Mini-environment



This virtual clean room environment features a stand-alone design, enabling complete process integration for pilot-scale production and commercial R&D prototyping



Brewer Science announces the commercial release of the Cee® X-PRO workstation with exhaust enclosure.  This product reflects a sophisticated design that complements Brewer Science's line of cost-effective equipment products including Cee® precision spin coaters, bake plates, developers, and megasonic cleaners, as well as ZoneBOND® separation tools. This new stand-alone workstation is a bridge for low- to medium-volume applications and delivers ultraclean performance and chemical containment.



"Mini-environments provide the precision-controlled laboratory conditions that are critical for conducting cutting-edge research within the microelectronics, biomedical, and pharmaceutical industries.  The Cee® X PRO workstation gives customers a turnkey solution with exceptional particle control in a compact footprint design," said Justin Furse, Brewer Science Equipment Technology Strategist.



To learn more about the quality process performance and seamless integration you will achieve with the Cee® X-PRO workstation, contact Jacob Rothe at jrothe@brewerscience.com, or visit http://www.brewerscience.com/brewer-science-cee-x-pro.



About Brewer Science

Brewer Science is a global technology leader in developing and manufacturing advanced materials, processes, and equipment for the reliable fabrication of cutting-edge microdevices used in electronics such as tablet computers, smartphones, digital cameras, televisions, and LED lighting. Brewer Science provides process flexibility and a competitive edge for its customers and plays a critical role in the supply chain. Since 1981, when its ARC® materials revolutionized lithography processes, Brewer Science has expanded its technology to include products used in advanced lithography, chemical and mechanical device protection, thin layer handling, and 3-D integration and products based on carbon nanotubes and nanotechnology. With its headquarters in Rolla, Missouri, Brewer Science supports its worldwide customers through a service and distribution network in North America, Europe, and Asia.



Learn more about Brewer Science at www.brewerscience.com , follow us on Twitter @BrewerScience, or Like us on Facebook.



To schedule an interview with Justin, contact:

Patti Shaw

Marketing Communications Manager

Brewer Science

pshaw@brewerscience.com

Tel: +1 573-364-0300









More from Construction Equipment and Supplies