Mini Diaphragm Seal eliminates clogging.
Press Release Summary: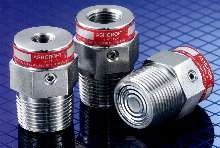 Ashcroft® Type 330 Seal features 316L stainless steel top housing and diaphragm, and all-welded construction, which prevents leakage of process media. Diaphragm is flush with end of 1 in. male NPT process connection, eliminating any pocket or dead-leg. Unit is compatible with switches, transducers, digital gauges, or analog pressure gauges from 60-1,000 psi. Diaphragm can be easily cleaned, making seal suited for applications where process media changes.
---
Original Press Release:

A New Ashcroft® Solution for Processes that Clog


The entrapment of solids in the pockets of instrumentation directly affects the performance of pressure measuring devices. The new Ashcroft® Type 330 mini-diaphragm seal meets this challenge head-on with a diaphragm that is flush with the end of the 1" male NPT process connection. By eliminating any pocket or dead-leg, particles in the process will not interfere with continuous instrument performance.

Because of its design, the diaphragm of the Ashcroft® 330 seal can be easily cleaned. This is ideal in applications like paint booths where the process media changes.

The Ashcroft® Type 330 seal has an all-welded construction to prevent leakage of the process media and a 316L stainless steel top housing and diaphragm. It is compatible for use with switches, transducers, digital gauges or analog pressure gauges from 60 through 1000 psi; and is offered with a variety of fill-fluid.

The Ashcroft® 330 seal has a two week lead time or is available in five working days with the Ashcroft® Gold ServiceSM option. Customers have the unique opportunity to order this or any Ashcroft® diaphragm seal with an instrument attached, directly from Dresser Instruments' factory.

For more information, visit us at www.ashcroft.com or call us at 1-800-328-8258.

Dresser Instruments
250 East Main Street
Stratford, CT 06614-5145
(203) 378-8281
1-800-328-8258
www.ashcroft.com

Dresser Instruments manufactures gauges, thermometers switches transducers, transmitters, data loggers calibration equipment and isolators for pressure measurement and control Product brands include Ashcroft®, Heise®, Willy(TM), ebro(TM) and Weksler®. Dresser Instruments is part of Dresser Inc Headquartered in
Dallas, TX Dresser, Inc is a worldwide leader in the design, manufacture and marketing of highly-engineered equipment and services sold primarily to customers in the flow control, measurement systems, and power systems segments of the energy industry. Dresser has a widely distributed global presence, with over 7,500 employees and a sales presence in over 100 countries worldwide The company's website can be accessed at www.dresser.com

More from Test & Measurement