Mini Data Logger stores over 1 billion measurements.
Press Release Summary: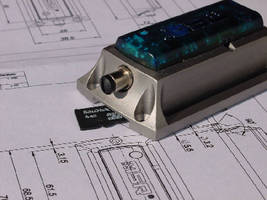 Able to record and store over 2 million measurement parameters as standard, MSR145 is available with removable microSD card that increases capacity to 1 billion parameters. Card can be changed during measurements, allowing user to evaluate saved data at any time. With analog inputs, user can connect individual external sensors to expand applications. Examples include monitoring transportation of sensitive goods, climate monitoring in building engineering, and documenting process workflows.
---
Original Press Release:

MSR 145 Revolutionary Mini Data Logger



MSR145 mini-datalogger now stores over 1bn measurement parameters

Henggart, - A markedly larger memory capacity for the versatile MSR145 together with greater flexibility for the analogue inputs - with these new features Swiss technology company MSR Electronics GmbH is significantly expanding the range of potential applications for which its dataloggers can be used.

With their wide range of available measurement parameters, small size and large memory capacities, the robust dataloggers from MSR Electronics GmbH provide an efficient solution for a multitude of different measuring tasks. The Prize-winning MSR145 mini datalogger, can already record and store over two million measurement parameters as standard. Now the MSR145 is available with a removable microSD card (4GB) that increases the storage capacity of the logger to a record-breaking 1 billion measurement parameters. The microSD card of the MSR145 can be easily changed during on-going measurements, representing a significant benefit when undertaking long-term measurements. This allows the user to evaluate the saved data at any time, wherever and whenever it may be necessary. Whether for monitoring the transportation of sensitive goods, climate monitoring in building services engineering or for documenting process workflows in industrial applications - the range of possible applications for which MSR dataloggers can be used is virtually unlimited.
Greater compatibility for external sensors

The range of applications for which MSR dataloggers can be used (they are already available with up to five different sensors - temperature, humidity, pressure, light, 3-axis acceleration), can be expanded significantly by fitting them with additional analogue inputs.

These inputs allow users to connect individual external sensors for a diverse range of measurement applications. The analogue inputs of all MSR dataloggers (MSR145, MSR160, MSR165, MSR255) are now available with the following freely selectable input configurations: 0-­20 mA; 4-­20 mA; 0-3.0 V; 0.5-4.5 V; 0-­5.0 V; 1.0-­6.0 V; 0-10.0 V; 0-12.0 V; 0-24.0 V; resolution 12 Bit.

Conclusion: The wide variety of different applications for which the robust MSR loggers can be used is expanded significantly once again with these new features. There really are currently no other comparable dataloggers on the market capable of recording such a range of measurement variables in such a small case and that allow such meaningful long-term measurments to be carried out as dataloggers from MSR Electronics GmbH.

About MSR Electronics GmbH

The firm's core competencies lie in the development and sale of standard and application-specific miniaturised dataloggers for a broad range of uses. MSR Electronics'customers include well known firms such as Alstom, Carl Zeiss, Decathlon, EMPA, Fein, Festo, Novartis, Oerlikon Balzers, Osram, Robert Bosch, Rega (the Swiss air rescue service), Siemens, W.L. Gore & Associates, V-Zug and many more.

We would be pleased to provide you with further detailed information.

MSR Electronics GmbH

Wendelin Egli, Managing Director

Oberwilerstrasse16

CH-8444 Henggart, Switzerland

Tel. +41 52 316 25 55

Fax +41 52 316 35 21

info@msr.ch

www.msr.ch

More from Electronic Components & Devices