Mini A/V Pushbutton Switches operate silently.
Press Release Summary: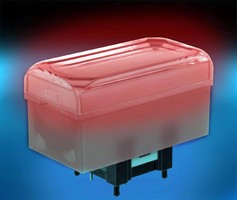 KP01 Series rectangular device incorporates 3 red LEDs, with central one built in to create evenly diffused illumination. Clear sculptured caps have white diffuser and measure 6.85 x 1.370 in. Square home key is available in 12, 15, and 17.4 mm sizes and caps include small divot in center. Both have electrical rating of 100 mA max at 12 Vdc and epoxy sealed terminals to lock out flux, dust and other contaminants. Tactile or nontactile options are also available.
---
Original Press Release:

NKK's Mini A/V Pushbuttons Offer All Configurations for Front Panel Broadcast Designs



KP01 Series Now Available in Rectangular and Home Key Versions

SCOTTSDALE, Ariz. (June 26, 2006) - At the request of leading customers and engineers, NKK Switches has expanded its KP01 series of miniature audio/video, silent pushbuttons to include two new additional options, a rectangular version as well as a home key option. The KP01 series now offers every possible configuration to complete and complement front panel broadcast designs.

The KP01 rectangular device is standard with three red LEDs. The central LED is built in and is an integral part of the switch, creating illumination that is evenly diffused throughout. The cap size is 685 " X 1.370 " (17.4mm X 34.8mm). The caps are sculptured and clear with a white diffuser.

The new square home key is available in three sizes including 12mm, 15mm and 17.4mm. Its clear sculptured caps with white diffusers include a small divot in the center of the cap.

NKK 's KP01 series of silent pushbuttons are available in tactile or nontactile options. The switches feature compact and contemporary design and a unique actuation guide to ensure positive indication of circuit transfer as well as smooth and silent actuation.

Terminals are epoxy sealed to lock out flux, dust and other contaminants. Electrical and mechanical life is rated at 5,000,000 operations minimum. Rectangular versions have a rating of 5,000,000 for electrical life and 1 million operations for mechanical life. The KP01 switches have an electrical rating of 100mA maximum at 12V DC.

A leading designer and producer of electromechanical switches, NKK Switches offers one of the industry 's most extensive selections of illuminated, process sealed, miniature, specialty and surface mount switches. The company manufactures more than four million toggle, rocker, pushbutton, slide, rotary and DIP rotary, keypad and keylock switches. NKK Switches maintains a complete network of qualified representatives and distributors through the United States, Canada, Central and South America, Europe and Asia.

NKK Switches is keenly aware of the myriad of issues that are covered under the RoHS directive. With more than 50 years of experience in the switch industry and as an environmentally-conscious company, NKK is committed to not only providing high quality products and services, but also providing environmentally safe products for its valued customers. NKK continues to lead the industry in responding to the needs of the marketplace with innovation, high reliability and a commitment to excellence.

For more information, contact NKK Switches, 7850 E. Gelding Dr., Scottsdale, AZ 85260. Phone 480-991-0942. Fax 480-998-1435. Or visit the NKK Switches Web site at www.nkkswitches.com.

For more information contact:

Bob Wanless (NKK Switches)
480-991-0942

More from Electronic Components & Devices