Minature Linear Guide has removable carriage.
Press Release Summary: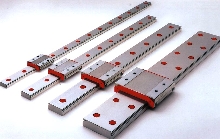 Wide Minirail is available with 14, 18, 24, and 42 mm wide rails and 2 accuracy and preload grades. Minirails are capable of speeds of 5 m/sec and accelerations of 50 m/sec squared. Typical operating temperatures range from -40 to 80 deg C, and short-term temperatures are rated to 120 deg C. Its 2-row ball recirculation system is manufactured from engineered plastic, and provides low translation force of less than 0.1 N.
---
Original Press Release:
Wide Miniature Linear Guide Carries Large Loads in a Small Package

Bedford, MA, March 29, 2002-- SCHNEEBERGER, Inc. today announced another complement to its line of high precision guideways. The new Wide Minirail offers the low profile, smoothness and precise positioning of the standard size Minirail guideways except it features an extra wide carriage and rail to handle higher loads and moment forces.

"The Wide Minirail was created for today's growing demand for linear motion components capable of high speed and high load capacity in a compact design made of non-corrosive materials." Say's Adrian Fuchser, Vice President and General Manager of Schneeberger Inc. "Markets such as the Semiconductor, Medical, Life Sciences and many others that Schneeberger has had success in with other product offerings, can now be further penetrated through the introduction of this product" adds Fuchser.

What makes the Schneeberger Minirail perform under high stresses arising from greater load, speed and acceleration is a unique ball recirculation system inside the carriage. Manufactured from an engineered plastic, this two row ball recirculation system makes the Wide Minirail capable of handling the extreme centrifugal forces of the balls when linear motion guides are driven by high acceleration actuators such as linear motors. In addition to allowing high speeds, the ball recirculation system provides a low translation force of less than 0.1 Newton, an indication of its smoothness under varying speeds and accelerations.

The Minirail guides, balls and carriages are all manufactured from through hardened stainless steel and completely assembled and packaged under clean room conditions. Another feature of the Schneeberger Minirail series is the ball-retainer design of the carriages. Unlike many conventional miniature guides, the Minirail carriage can safely be removed from its guide without balls falling out. This makes handling and installation fast and easy.

The Wide Minirail is available in sizes 14, 18, 24, and 42mm wide rails with a choice of two accuracy and preload grades. Each carriage includes wipers on each end to prevent contamination and help retain lubricant inside the carriage. Schneeberger also offers its own linear bearing oil syringe for the Minirails as well. Two lubrication ports are located at each end of the carriage for easy lubrication. These Minirails are capable of speeds of 5m/second and accelerations of 50m/second squared. Typical operating temperatures are -40C to +80C. Short-term temperatures up to 120C are possible.

Ideal applications for the Schneeberger Minirail include microelectronics, semiconductor production, metrology, automated PCB assembly, Medical/Pharmaceutical, Life Sciences and many more.

Schneeberger Inc., founded in 1985, is the USA subsidiary of the international Schneeberger Linear Technology group, a world leader in precision linear motion. Corporate headquarters are located in Roggwil Switzerland. Our global network includes subsidiaries in France, Germany, Italy as well as representatives in other major industrial markets.

For additional technical information, call 1-800-854-6333 or visit www.schneeberger.com.