Millstar Partnership Helps Bring CNC Technology to the Classroom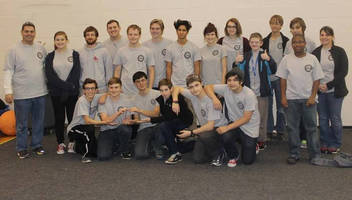 Birmingham, Mich – In a continued effort to advance hands-on classroom learning in engineering technology, Millstar has partnered with Seaholm High School in Birmingham, Mich. Millstar's most recent donation - a collection of tool holders, collets, shell cutters, carbide inserts and Solid carbide end mills - helped provide students with the tooling and applications needed to approach CNC technology and machining.



"Millstar's support with our CNC tooling has allowed us to make great advances with our machines and machining," said Seaholm Engineering Technology Systems Teacher Bernie Simms. "Their generosity gives our students an advantage as we prepare them to compete in a high tech, global economy."



The relationship between Millstar and Seaholm began in 2011, when Simms started a robotics class at Groves High School in Birmingham.



"In the lab, one of the machines that stood out to me was a Haas TM-1 CNC machine," Simms said. "Unfortunately, it only had two tools with it. Through a mutual friend, I was put in touch with Ron Field from Millstar. He came to the school, looked at our equipment and machining needs, and donated several holders and tooling."



Simms then saw the value of CNC machining and its impact on his students. As a result, he worked to get a second CNC machine, a Haas Mini-Mill, for the Birmingham Public School District. Millstar was the supplier for the new Haas' by supplying tool holders and tooling, along with the techniques to utilize the machine to its full capacity. 



"Once the CNC machine was equipped with proper tooling, students were able to work through Haas and Mastercam modules in addition to instructor assigned parts," Simms said. "One particular student became so excited that while on break from Michigan Technological University, he participated in a summer internship at a local fabrication company to do CNC programming and machining."



The Millstar partnership has also assisted Seaholm's participation in robotics competitions, with the occasional donation of the tooling needed to compete. Simms leads the Birmingham school district robotics Team 2960, Automation Nation, in the FIRST  (For Inspiration and Recognition of Science and Technology)  Robotics Competition. His teams have successfully competed for eight years. 



"Our partnership with Seaholm presents us with a unique opportunity to be a part of these rich learning experiences," said Millstar Vice President Ron Field. "We look forward to continuing our joined efforts in providing students with the tools necessary to experience the field before entering the workplace."



More from Electrical Equipment & Systems