Pressure Sensors / Detectors / Transducers
Millivolt Pressure Sensors come in miniature DIP packages.
Press Release Summary: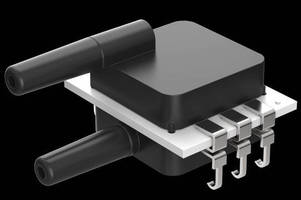 Offering standard pressure ranges from 1–70 psi, XHB Series provides uncalibrated and uncompensated analog millivolt output signal. RoHS-compliant sensors come in miniature DIP housing that allows for space-conserving PCB mounting and OEM design flexibility. Areas of intended use include dry air and non-corrosive gas applications, including industrial and pneumatic controls, measurement instrumentation, and medical devices.
---
Original Press Release:

XHB Series Basic Millivolt Pressure Sensors



All Sensors Corporation of Morgan Hill, California has announced a new line of millivolt pressure sensors ranging from 1 to 70 PSI. The XHB Series Pressure Sensors provide an uncalibrated and uncompensated, analog millivolt output signal. The XHB Series is intended for dry air and non-corrosive gas applications including industrial and pneumatic controls, measurement instrumentation, and medical devices. This series offers a wide selection of standard pressure ranges including 1, 5, 15, 30, and 70 PSI. Available in a miniature DIP housing allows for space-saving PCB-mounting and maximum OEM design flexibility.



Package Features

• Miniature DIP packages

• PC board mountable package

• Maximum OEM design flexibility



Electrical Features

• 1 to 70 PSI

• High impedance for low power applications

• RoHS Compliant



Applications Ideal applications for this device are; Industrial and Pneumatic Controls; Measurement Instrumentation and Medical Devices.



Price Contact factory for price. Samples are available for product testing.



For additional information, please visit:

https://www.allsensors.com/products/xhb-series



Contact Information:

Dan DeFalco

408 225 4314 tel

ddefalco@allsensors.com

Related