Milling Tools are suited for high-feed applications.
Press Release Summary: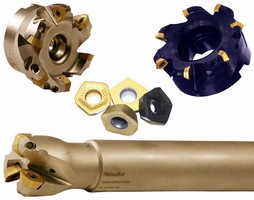 ValMILL(TM) V556 series includes face mills, end mills, as well as array of insert grades and geometries. Insert styles offer multifunctional usage, including rough and finish face milling operations, plunging, ramping, and helical interpolation applications. While end mills are available in 1.250 and 1.500 in. dia sizes, 6 face mills diameters range from 2.000-6.000 in. Tools use pentagonal-shape inserts with 5 cutting edges and offer feed rates from 0.12-0.06 ipt.
---
Original Press Release:

Valenite Introduces New Valmill V556 High-Feed Mills



New holders and insert configurations provide versatile, economical performance for rough and finish face milling work as well as plunge, ramping and helical interpolation operations

Valenite LLC has introduced the newest member to its ValMILL(TM) milling tool product line-the ValMILL V556 system consisting of face mils, end mills and an array of insert grades and geometries that deliver high feed rate performance, strength and economies. The V556 series features insert styles that offer versatile, multi-functional usage including rough and finish face milling operations, as well as plunging, ramping and helical interpolation applications, while the option of face mill or end mill style tool bodies meet a wide range of machining needs. The new end mill tools are available in two sizes of 1.250 and 1.500 inch diameter; there are six V556 face mills diameters ranging from 2.000 up to 6.000 inches.

The new ValMILL V556 system uses pentagonal-shape inserts having five cutting edges (an extra index surface priced competitively with four-edge square or three edge triangular tools), based on the previously introduced Valenite's V555 Face Mill system. Whereas the V555 series is adept at heavy 0.20" depth of cut applications, the V556 units are ideal for light to moderate work loads with depths of cut of up to 0.08, but at much higher feed rates, resulting in a 30 to 60% increase in metal removal rates. Examples of suggested feed rates for conventional milling operations, depending upon the insert geometry selected, include up to 0.10 ipt for machining steel, to 0.06 ipt for stainless steels and cast irons, to 0.04 ipt for high temp alloys and hardened steels, and to 0.12 ipt for aluminum applications.

The V556 tooling body integrates a modified insert seat design, as compared to the V555
that helps to direct cutting stresses to the axis of the tool that in turn eliminates vibration and chatter to promote longer tool life while a high positive axial cutting action allows lower horsepower machine to perform at greater removal rates.

When compared to conventional four-edged square inserts, the V556 Series inserts provide improved tooling economies...first, the additional edge means an immediate 20% increase in the number of parts machined per insert. Second, cutting is improved through the pentagonal shape of the insert and insert seat on the body that increases the size of load bearing surfaces and keeps the mounting surfaces closer to the cutting action. The larger mass of the insert...approximately 30% more carbide than comparable size square inserts...at .215" thickness, contributes to substantially longer tool life and helps protect the cutter body from damage. As an option available for the V556 cutters, Valenite insert mounting shower-head coolant screws, assure ample coolant distribution to each insert and chip formation zone.

Inserts for use in the V556 tools encompass two geometries for roughing and finishing, respectively, and four grades, including VP5020 and VP5040 multi-layer PVD TiAlN/TiN coated grades for general applications, a TiN/Al2O3/TiCN CVD VP5135 coated grade for tough machining, and VP1120 abrasive- resistant grade ideal for grey and ductile cast irons.

As with all Valenite products, the ValMILL V556 Face and End Mills are backed by the company's ValPro(TM) Customer Service group for ordering, pricing and delivery scheduling, plus a technical staff offering continuously updated product and application data, and recommendations to optimize metal cutting productivity.

Valenite, headquartered in Madison Heights, Michigan with sales and service operations worldwide, is one of the largest suppliers of industrial cutting tools in the world. The company offers a complete line of standard and special indexable-insert turning, milling, grooving, threading, boring and drilling products to a variety of industries. Its product line also includes the ValCOOL® line of cutting fluids. In addition, special high-production tooling for custom machining systems is produced under the MODCO® name.

Send All Inquiries To:
Barb Craig
Valenite LLC
1675 E. Whitcomb
P.O. Box 9636
Madison Heights, MI 48071-9636
Phone: 800.544.3336
Email: customer.service@valenite.com

More from Fluid & Gas Flow Equipment