Milling Machines deliver low-vibration, precise cutting.
Press Release Summary: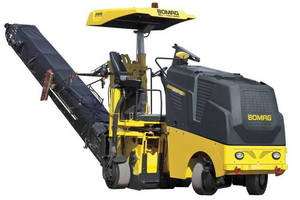 With respective nominal cutting widths of 19.7 and 23.6 in., BM500/15 and BM600/15 are powered by 125 hp diesel engines and have rotor geometry with teeth arrangement and shell thickness that optimize operation. Edge cutter produces smooth edge, and diagonal cutters protect rotor when driving around bends. Cutting width can be adjusted with removal of few bolts, and design enables rotor replacement in 30 min or less. Max cutting depth is 8.3 in., and milling radius is less than 10 in.
---
Original Press Release:

BOMAG's New Milling Machines Offer Innovative Rotor Technology for Better Cutting, Quicker Replacement



KEWANEE, Ill. - BOMAG introduces two new models of milling machines, the BM500/15 and the BM600/15, both featuring innovative rotor geometry to reduce vibration, increase service life and greatly simplify drum replacement.

The new rotor geometry of the BM500/15 and BM600/15 features optimally arranged teeth and a thick shell for uniform, low-vibration and very precise cutting. The edge cutter is also designed to produce a smooth edge with minimum damage, which helps reduce extra costs and ancillary work for the contractor. To minimize downtime, the diagonal cutters protect the rotor when driving around bends, and they prevent abrasion to the bracket edges.

Furthermore, drum replacement has been drastically simplified. Featuring an industry exclusive rotor mount design, the cutting width of the machines can be adjusted with the removal of just a few bolts. All cables and hydraulic hoses are clearly routed away from the door, giving the operator easy access to the drum. Whereas rotor replacement on other models typically takes four-to-five hours, the unique design of the BM500/15 and BM600/15 shortens the job to 30 minutes or less.

The new mills are powered by highly efficient, 125-horsepower Deutz liquid-cooled diesel engines. The BM500/15 offers a standard cutting width of 19.7 inches, whereas the BM600/15 delivers a 23.6-inch cutting width. Both models feature a maximum cutting depth of 8.3 inches, and a milling radius of less than 10 inches. They are ideal for repair work, the removal of asphalt strips, fine milling work, trench work, joint cutting, or milling close to manhole covers and curbs.

Operator visibility and comfort are maximized on the new machines. The units are designed so the operator can always work from a seated position where he can clearly see the milled edge. The steering wheel, armrests and seat are insulated to reduce vibration, and the mills produce a very low noise level.

For operating next to walls, the conveyor belt assembly can be quickly and easily removed. Unlike those found on many competitive units, the conveyors on the BM500/15 and BM600/15 can be disconnected by one person in less than five minutes.

The machines have three variable cutting speeds to optimize milling performance. All controls, such as the cutting speed and depth, are digitally and clearly displayed in the operator's line of sight.

To keep the cutter cool and enhance service life, the units include a water system with spray control. It features an automatic setting, which only uses water when the machine is planing. The system also efficiently controls the spray volume to eliminate unnecessary water consumption and decrease the number of refills needed. Maintenance of the water system is kept simple, thanks to the easy-access spray bar that can be quickly removed and serviced without tools.

Available options include a weather protection roof, split rear-scraper door, working lights, and a four-wheel version for optimal traction and stability. Various milling drum options are also offered to increase the machines' versatility.

For more information on the BM500/15 and BM600/15 cold planer milling machines or other BOMAG milling products, please contact BOMAG Americas, Inc., 2000 Kentville Road, Kewanee, IL 61443, call 309-853-3571, toll-free 800-782-6624, fax 309-852-0350, e-mail info.bomag@bomag.com or visit http://www.gobomag.com/milling-machines.

More from Electronic Components & Devices