Milling Grade is suited for machining cast iron.
Press Release Summary: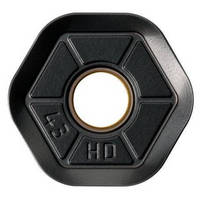 Designed for extended tool life, WK15CM WIDIA Victory™ grade is available for face mills, shoulder mills, and copy mills. Fine-grained alumina layer promotes wear resistance by optimizing coating integrity at elevated speeds, while post-coat treatment increases cutting edge toughness by improving coating stress. This helps fight thermal cracking and coating flaking. Furthermore, cutting edges are micro-polished to lessen cutting forces and friction and workpiece sticking.
---
Original Press Release:

New WIDIA VictoryTM Grade for High-Performance Cast Iron Milling



Phenomenal cutting and tool life promise big advantages machining cast iron

Cutting tests for WK15CM, the newest WIDIA Victory™ grade for cast-iron milling, are showing up to 40 percent longer tool life.



Would more parts per cutting tool be an advantage, particularly for milling cast iron parts? Cutting tests for WK15CM, the newest WIDIA Victory™ grade for cast-iron milling, are showing up to 40 percent longer tool life – a big productivity upgrade for your shop.



Parts made of grey cast irons form the foundations of many industries, including automotive, energy, fluid power, heavy equipment, and more. Shops milling these components know better than most that tool performance and reliability is the key to success.



That is why WIDIA is introducing its latest WK15CM grade for face mills, shoulder mills, and copy mills with dedicated geometries for cast-iron milling.



A fine-grained alumina layer gives better wear resistance by improving coating integrity at elevated speeds. Proprietary post-coat treatment of the WK15CM inserts further increase cutting-edge toughness by improved coating stress. This helps fight thermal cracking and coating flaking, the number-one reason most milling inserts fail in machining cast irons, especially when coolant is applied.



Cutting edges are further micro-polished to ease cutting forces and reduce friction and workpiece sticking. The results are an extremely reliable milling insert shops can use to make more cast iron parts or to ramp up cutting speeds when increased performance is called for.



For more information, visit www.widia.com.



WIDIA-brand products and services have defined innovation in the metalcutting industry for more than 80 years — from the world's first patent for carbide indexable inserts to the development of the world's first coated grades. The WIDIA brand offers a complete portfolio of precision-engineered products and custom solution services. With thousands of milling, turning, holemaking, and tooling systems products available through a worldwide network of authorized distributor partners, you'll find everything you need from one single source.



To locate a WIDIA distributor, contact: WIDIA Products Group 800-979-4342 or visit our website www.widia.com

More from Architectural & Civil Engineering Products