Milling Grade accelerates high-temperature alloy machining.
Press Release Summary: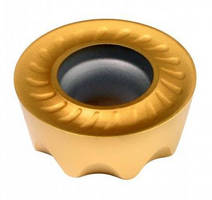 Available in face milling, copy milling, and shoulder milling platforms, KCSM30 combines fine-grained carbide substrate for strength and stability with TiAlN PVD coating for wear resistance. Product lets shops increase cutting speeds to 230 sfm and is also available in Beyond Blast composition, where integral coolant channels deliver coolant through insert to cutting edge under chip. Coolant is only delivered in insert quadrant actually cutting, allowing inserts to remain indexable.
---
Original Press Release:

New Kennametal High-Performance Indexable Milling Grade KCSM30 for Machining High-Temperature Alloys



Longer tool life reduces cost-per-part for high-value components

KCSM30 grade from Kennametal for long tool life and increased speeds milling titanium.



Because of its high strength-to-weight ratio, titanium remains in high demand for precision components such as turbine blades in aircraft engines and power plants and frame components in aircraft structures and race cars. Shops know machining titanium and other high-strength/high-temperature alloys is a significant challenge, unlike milling steels or aluminum.



With approximately 25% longer tool life, the new KCSM30 milling grade from Kennametal directly reduces cost-per-part for shops working on titanium. With a fine-grained carbide substrate for strength and stability together with a TiAlN PVD coating for excellent wear resistance, not only are tools lasting longer, shops are also able to increase cutting speeds, up to 230 sfm (70m/min).



Due to titanium's high strength, thermal management is extremely important in managing and prolonging tool life. KCSM30 is also available in Kennametal's proprietary Beyond Blast composition, where integral coolant channels deliver coolant through the insert precisely to the cutting edge under the chip, where it does the most good reducing heat and friction while increasing productivity. In addition, coolant is only delivered in the insert quadrant that is doing the actual cutting, allowing the inserts remain indexable for maximum use.



Demand for higher-strength, higher-performance components in the world's critical industries (aerospace, energy, automotive, medical, and others) will only continue to expand, along with the pressures on manufacturers to increase quality and reduce costs. Available in face milling, copy milling, and shoulder milling platforms, KCSM30 from Kennametal is an effective choice for shops seeking to improve productivity and stay ahead.



Kennametal

Celebrating more than 75 years as an industrial technology leader, Kennametal Inc. delivers productivity to customers seeking peak performance in demanding environments. The company provides innovative wear-resistant products, application engineering and services backed by advanced material science, serving customers in 60 countries across diverse sectors of aerospace, earthworks, energy, industrial production, transportation and infrastructure. With approximately 14,000 employees and nearly $3 billion in sales, the company realizes half of its revenue from outside North America, and 40% globally from innovations introduced in the past five years. Recognized among the "World's Most Ethical Companies" (Ethisphere); "Outstanding Corporate Innovator" (Product Development Management Association); and "America's Safest Companies" (EHS Today) with a focus on 100% safety, Kennametal and its foundation invest in technical education, industrial technologies and material science to deliver the promise of progress and economic prosperity to people everywhere. For more information, visit the company's website at



Kennametal Inc.

1600 Technology Way

PO Box 231

Latrobe, PA 15650-0231

USA

LINDEN Kathy

Phone : 724 539 5698

Fax : 724 539 6766

kathy.linden@kennametal.com

More from Agricultural & Farming Products