Milling/Engraving Machines offer high-power spindle option.
Press Release Summary: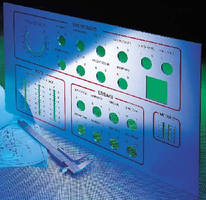 Engraving machines from IS range (6000, 7000, 8000) and XP range are available with 150-1,000 W spindle that offers rotation speeds to 60,000 rpm for applications such as cutting or 3D marking on metal. Capabilities enable mass production via time cycle reduction, and user/machine interface promotes productivity as well as safety. Spindle is controlled by machine's electronic control system and driven by GravoStyle5 software, which offers CAD/CAM functions to augment marking options.
---
Original Press Release:

High Performance Spindle



Gravograph is introducing a high power and high frequency spindle for its milling engraving machines, as an option.

Mass production now become accessible to this technology thanks to the great reduction in the obtained time cycle. Powers of 150 to 1000W are available with rotation speeds up to 60000rpm, for various applications such as cutting or 3D marking on metal. Unlike other models on the market, Gravograph offers a totally integrated solution with a unique user/machine interface to improve both productivity and safety.

For certain applications - such as strong 3-D marking on very hard metallic materials or even for the large series - the engraving or milling machines were until now limited by the strength and rotation frequency of the spindle. When it comes to making front faces for electrical equipment, or 3D marking of metallic supports, the optional integration of high performance and high frequency spindles considerably reduces the cycle time, principally by lowering the number of necessary passes. These technologies will therefore become particularly interesting for medium or large series applications. This option addresses engraving machines from the IS range (6000, 7000, 8000) and XP range.

While high power and high frequency spindles are standard equipment on the market, Gravograph stands out by offering a totally integrated solution. The spindle is therefore controlled by the machine´s electronic control system. Likewise, all the information concerning the spindle is integrated into the control screen of the machine (speed of rotation, charge, etc) and, for further safety, a single switch starts both the machine and spindle. The spindle is driven by GravoStyle5 software, which offers numerous CAD/CAM functions to augment the marking options. The machines equipped with this option are also more straightforward and quicker to configure than standard models. They also boast Gravograph´s one-year user guarantee.

The new spindles can be equipped as high-quality tools on the Gravograph range, to obtain the most precise results, even with the demanding 2D, 2.5D and 3D applications. Tools with diameters up to 6mm (1/4) are acceptable.

The high power, high frequency spindle option from Gravograph is compatible with most of the company´s marking accessories: chip hood, vacuum table that fixes pieces to be engraved by depression, tool changer... The chip hood in particular helps conserve a clean factory, which prevents premature wearing of the spindle - often caused by dust and chips, which harm the ball bearings.

Finally, the high power spindles can be installed on kit that is already in service. In this case, the services of a Gravograph technician is necessary.

Contacts:
Gravograph
Fabrice JUSZCZAK
fabrice.juszczak@gravograph.com

Gravograph, Inc.
2200 Northmont Pkwy
Duluth, GA 30096
USA
ANDREA Pauline
Phone : 00 1 (770) 689-3165
Fax : 00 1 (770) 689-3136
pandrea@gravograph-newhermes.com

GRAVOGRAPH
114 quai du Rhône
01708 MIRIBEL
FRANCE
ELYACOUBI Mounira
Phone : +33 4 78 55 85 81
melyacoubi@technifor.com

More from Electronic Components & Devices