Milling Cutters and Inserts are optimized for metalcutting.
Press Release Summary: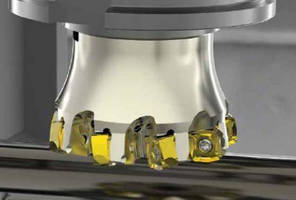 To reduce spindle wear while promoting stability, Stellram 7792 and 7793 milling cutters direct cutting forces axially into spindle. In addition to high-feed face milling, 7792 is capable of pocketing, slotting, and plunging. High-feed milling inserts are available with Stellram X-Grade® technology, which promotes resistance to thermal cracking and propagation. Stellram 5230 Chevron Long-Edge Milling series inserts and cutters reduce machining time for titanium and other high-strength alloys.
---
Original Press Release:

Full-Range Stellram(TM) Portfolio from Kennametal Expands Pathways to Metalcutting Excellence



Commitment to "Different Thinking is Better Thinking" leads to more choices for metalworking success



The high-feed 7793 high-performance cutters and inserts is one of the many outstanding Stellram solutions now available from Kennametal.



Late last year, Kennametal finalized its acquisition of the tungsten materials business from Allegheny Technologies Inc., including the full line of StellramTM metalworking tools (formerly ATI Stellram). Now the full platform of Stellram products - with solutions specifically tailored to support energy, aerospace, transportation and other vital industries -- are available as part of the Kennametal portfolio.



Driven by Kennametal´s commitment to "Different Thinking is Better Thinking," the StellramTM group of products include such production-enhancing milling technologies such as the 7792 and 7793 high-feed milling cutter systems and the 5230 Chevron Long Edge mill cutter system, along with X-GradeTM carbide insert technology. High-performance materials such as titanium and other low-weight/high-strength alloys of particular interest to the aerospace industry are the materials of choice for these proprietary cutter designs, inserts, and grades.



High Feed Milling Cutter Systems

The Stellram 7792 and 7793 milling cutters direct cutting forces axially into the spindle, lessening spindle wear and improving machining stability. Both modern and older equipment benefit from this cutting tool technology. These Stellram face mills operate at shallow depths of cut and very high feed rates, resulting in metal-removal rates up to 5 times greater than conventional cutters.  In addition to high-feed face milling, the 7792 is capable of pocketing, slotting, and plunging.



High-feed milling nserts are available with proprietary Stellram X-Grade® technology. X-Grade technology uses ruthenium as a key ingredient, combined with a cobalt binder, for superior thermal-cracking and propagation resistance. The results are metal-removal rates up to three times higher than conventional cutting tools and longer tool life. X-Grade inserts are available in a variety of styles for a variety of applications.



X-Grade inserts are also designed to yield the highest levels of material removal rates in high-performance materials like titanium as well as other difficult-to-machine alloys such as nickel-based alloys, cobalt-based alloys and titanium-based alloys used extensively in aerospace and energy Markets.



5230 Chevron Long-Edge Milling

The unique Stellram 5230 Chevron Long-Edge Milling series of inserts and cutters work together to provide substantial reductions in machining time for titanium and other high-strength alloys. The advanced chevron insert design ensures that one cutting point is always in contact with the work material during entrance and exit. Single-line contact on the cutter body means no two inserts are contacting the workpiece on the same axial plane. Together this provides optimum harmonic stability, reducing power consumption and maximizing tool life.



Additionally, threaded coolant ports on the cutter body allow selective blocking to adjust pressure and volume. Each insert has its own coolant jet for optimum chip evacuation.



A complete review of high-performance Stellram tools from Kennametal is available in the extensive online catalogs available at http://www.kennametal.com/



Kennametal

Celebrating more than 75 years as an industrial technology leader, Kennametal Inc. delivers productivity to customers seeking peak performance in demanding environments. The company provides innovative wear-resistant products, application engineering and services backed by advanced material science, serving customers in 60 countries across diverse sectors of aerospace, earthworks, energy, industrial production, transportation and infrastructure. With approximately 14,000 employees and nearly $3 billion in sales, the company realizes half of its revenue from outside North America, and 40% globally from innovations introduced in the past five years. Recognized among the "World's Most Ethical Companies" (Ethisphere); "Outstanding Corporate Innovator" (Product Development Management Association); and "America's Safest Companies" (EHS Today) with a focus on 100% safety, Kennametal and its foundation invest in technical education, industrial technologies and material science to deliver the promise of progress and economic prosperity to people everywhere. For more information, visit the company's website at



Kennametal Inc.

1600 Technology Way

PO Box 231

Latrobe, PA 15650-0231

USA

Kathy LINDEN

Phone: 724 539 5698

Fax: 724 539 6766

kathy.linden@kennametal.com



Kennametal Inc.

1600 Technology Way

PO Box 231

Latrobe, PA 15650-0231

USA

Carsten GROMOLL

Phone: +1 724 539 8033

carsten.gromoll@kennametal.com

More from Communication Systems & Equipment